If minimising your impact on the environment is important to you – and your patients – then a practice fitout that features eco-friendly elements is well worth considering.
With the focus on sustainability becoming more commonplace, there are many more options available for your fitout that can reduce your clinic's environmental impact – while also taking the health of patients and staff into consideration.
If you're about to refurbish or fitout your healthcare practice, here's a few simple design ideas that take the environment into account.
Save Power
The less electricity you use in your practice, the better it is for the environment. And with power prices in constant flux, saving on energy will also help your bottom line.
If you own your premises, one power-saving option worth considering is solar panels. Not only is this a clean form of energy, it's also a very visible one, advertising your eco-friendly credentials without even saying a word.
Another great way to save power is to invest in a lighting plan, automated lighting, and energy-saving bulbs. A lighting plan determines the most efficient way to light your premises to meet your needs while minimising your power consumption. Automated lighting turns off when not in use, offering a set-and-forget approach to power saving. And, energy-saving light bulbs would be the best choice.
For an eco-friendlier cooling option, ceiling fans and thoughtfully configured window placement can replace air-conditioning on milder days. For colder climes, insulation in the building framing can warm your building in winter without chewing through ducted heating.
Make the Most of Daylight
When designing your practice fitout, incorporate large windows, glass doors and skylights to help reduce the need for artificial lighting during the day. By allowing natural light into every corner of your clinic where possible, you'll enjoy the cost savings of utilising daylight as well as the welcoming ambience of plentiful natural light.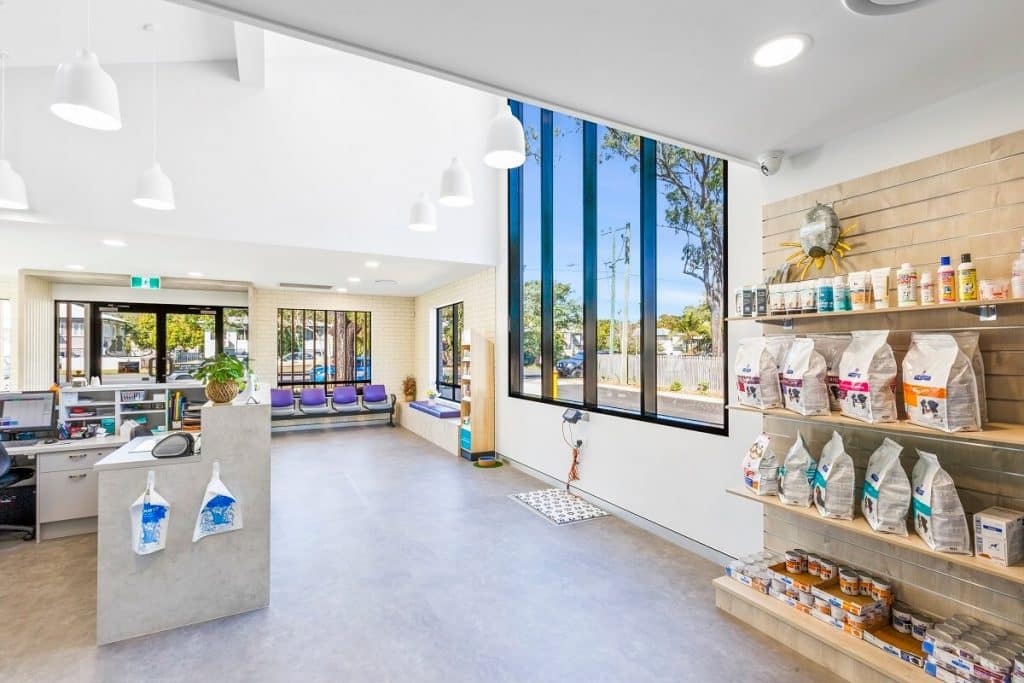 Use Durable, Sustainable Materials
When refurbishing or fitting out your practice, an easy way to go eco-friendly is to use recycled or sustainable materials wherever possible.
For flooring, the increasingly popular – and very durable – vinyl planks are now available in a range of environmentally-friendly options.
Reception desks and staff room tables with reclaimed wooden tops are also worth considering. While this sustainable approach clearly demonstrates your green credentials,  in some cases it might be more expensive than a new countertop.  Do your research and you may find a bargain, if a rustic and homely look is what you are going for.
Reuse or Recycle Construction Materials 
It might also be a good idea to look at how to reuse or recycle some of the construction materials in your new fitout rather than sending them to landfill. For example, concrete can be broken down and recycled to be used for building driveways and untreated timber larger pieces could be repurposed.  Talk to your builder or fitout company to see if any of your existing materials could be reused in your new fitout project. 
Learn More
If you're looking to refurbish your existing healthcare practice – or open a new one – Elite Fitout Solutions can help.
Contact us today to discuss your plans for your new or refurbished practice or sign up for Elite's newsletter to see examples of our recent projects.