So, you're looking to go out on your own and need some design inspiration for your new dental clinic. You've looked through the magazines and feel that you know what you are looking for. But do you?
Here are a few dental clinic design inspiration ideas that could inspire your decision:
Modern & Stylish
When entering the GC Dental Solutions clinic, you are presented with a bright, modern reception and waiting area that is stylish and inviting.   The chic refreshment area is designed to make you feel comfortable while waiting for your appointment.
The timber veneer American oak panels provide a warmth to the clean lines of the white flooring and walls.
Colourful
First impressions count, so when you step into this colourfully designed space at Precision Dental you appreciate the finer details.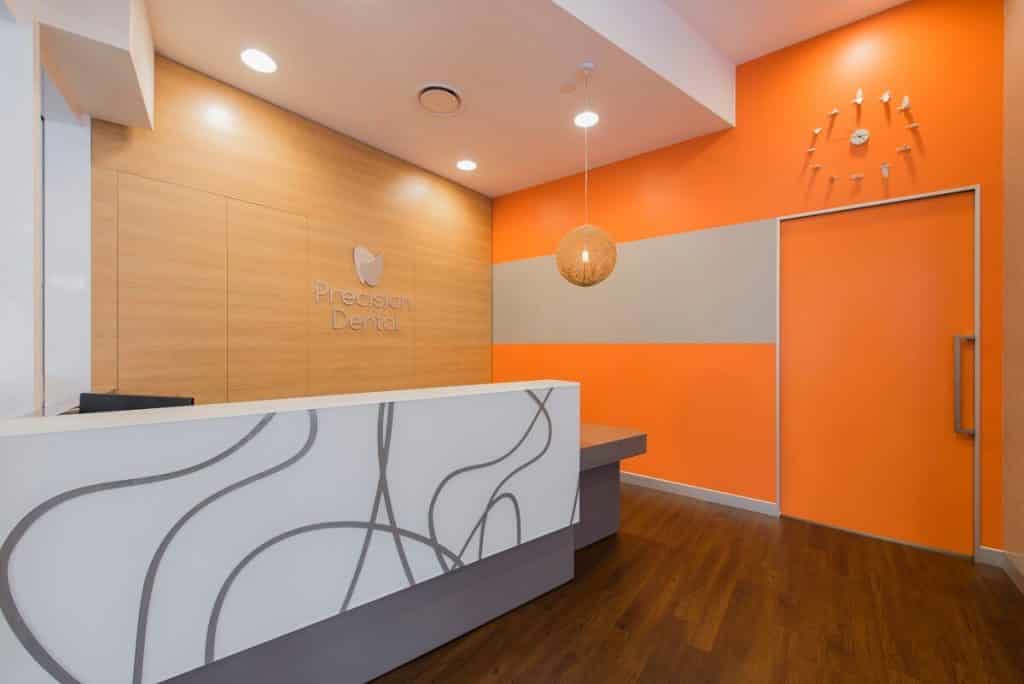 Although minimalist in design, the reception area showcases dark-timber flooring. Your eye up is drawn up to the softer light timber tones on the walls, offset by the vibrant orange and grey and white reception desk.
Light & Fresh
Crisp and cool white tones coupled with greenery makes it feel like you are walking into a fresh garden. You might be there to see the dentist but you will enjoy your waiting time in the calming comfortable space.
As the clinic is situated in a high-end CBD building, clever design elements were implemented to provide the illusion of natural light, creating a comfortable light-filled area for incoming and waiting clients.
Contact Us
To get some more dental clinic design inspiration, check out some recent fitouts in our project gallery.
If you're looking to start your new dental clinic fitout, give us a call today on 1300 765 344.