Elite recently completed work on a dental build project with dramatic results. What was previously a tired-looking house in Pacific Paradise – just a few blocks from Mudjimba beach on the Sunshine Coast – has been transformed into the new Northshore Dental clinic.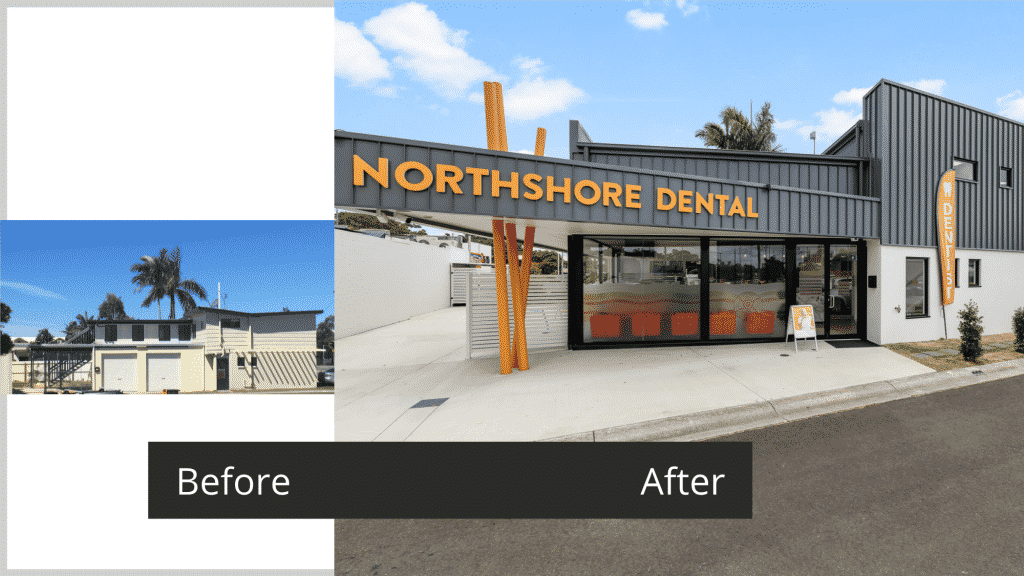 The plain exterior of the house has been overhauled, with charcoal sheet metal cladding giving the building a chic, industrial feel. Stylised beam supports for the awning have also been added, and are painted in the same orange as the brand's logo and signage.
Layout
Internally, the house has been converted into a 170sqm dental clinic. The Sunshine Coast practice includes four dental surgeries, state-of-the-art steri area with separate entry and exit for clean/dirty areas, consult room, OPG, and admin, reception and waiting areas.
The second level of the dental clinic can be accessed by stairs or the elevator at the end of the reception desk. This floor provides additional space for future clinic expansion.
Interior Design
The clinic's brand colours are featured throughout the waiting area. Bright orange and rich rust coloured seating helps create a warm and welcoming environment for patients. Further enhancing the warmth of the waiting and reception area is the timber-look vinyl flooring, which complements the elegance of the marble-look reception counter.
To create continuity from outside to inside, the orange brand is used as a highlight colour for exterior columns and signage as well as in the treatment room splashbacks.
Another design element used to create continuity – and replicating the look of the metal cladding used on the exterior – was the striped panelling behind the reception counter. The continuation of the black stripes onto the ceiling as 'beams' emphasises the volume of the reception area.
Logo Design
The unique logo was designed by a staff member of Northshore Dental, who is an indigenous descendant of the Wakka Wakka, Goreng Goreng people.
The story behind the logo shows a tooth, with two people inside holding a circle represents the Northshore Dental team supporting the community. The circle represents a meeting place. The different coloured lines represent paths that we have all taken to get to Gubbi Gubbi country: "Gathering at Northshore Dental".
Contact Us
Are you looking to build or fitout your dental clinic? View our dental projects and give us a call today on 1300 765 344.