It doesn't matter whether your dental clinic is large or small, one of the most important aspects of your dental design is your layout plan.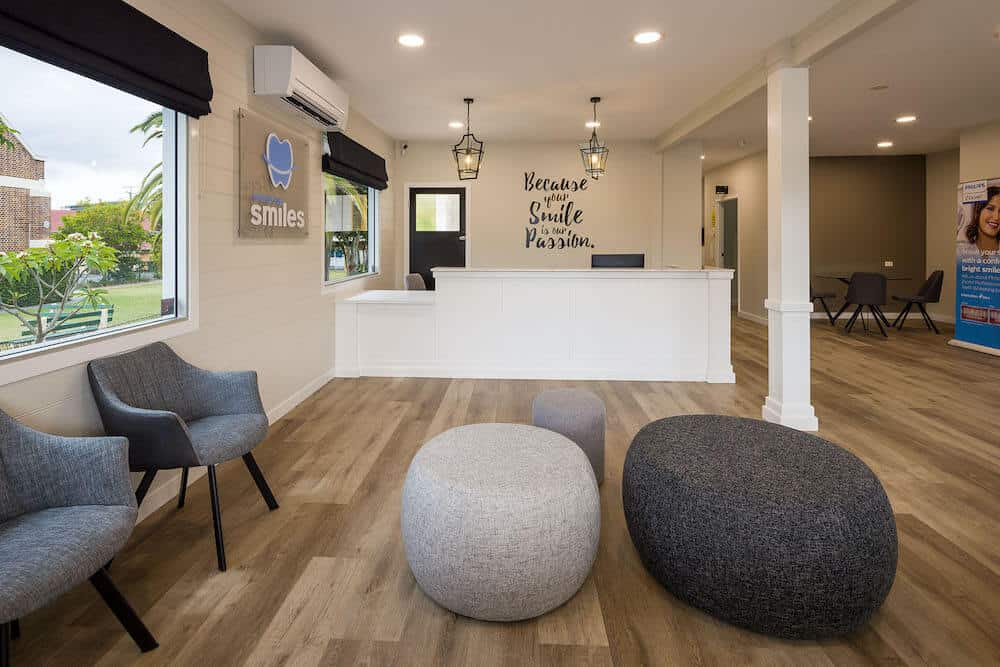 A well-laid out practice with the right dental equipment can help to improve your efficiency, minimise risks and reduce stress for patients, staff and dentists.
In this article, we delve into a few principles for designing efficient layouts for dental clinics of all sizes.
Your Floor Plan
Your floor plan should be designed with your staff and patients in mind.  Consider the flow of traffic that your clinic will be able to accommodate.   Look at what a typical visit for your client looks like, so your furnishings work well in the designated space.   And last, but not least, you should have a plan in place for future growth.
Considering these aspects, we take a look at floor plan design to maximise efficiency of movement between the different areas of your dental practice.
The 97 sqm 2-chair clinic at Clifton Family Dental pictured below, is a small facility located in a village shopping centre complex.   The practice centred around an inviting open plan environment, which immediately gives the impression of ample space.  The layout of the dental clinic was sleek and efficient.  This was achieved by utilising glass and a warm colour palette to promote a modern look.
The larger 460sqm Today's Dentistry clinic layout features a long corridor, accentuated by glass and modern ceiling lights leading to the practice's 8-surgeries.
Mapping Out Your Equipment
An efficient dental practice layout not only accommodates any necessary equipment, but also makes using and storing this equipment as easy as possible.
When designing the layout, make sure your design allows space for the efficient use of your equipment. Consider how the equipment may affect your use of space and make adjustments according to the positioning of wiring or power point locations, to improve the efficiency of your dental clinic.
Planning where your equipment will go is particularly important for smaller practices, as you have less room for error. 
Plan Your Space Accordingly
If your practice is on the smaller side, don't waste valuable space with an over-sized reception and waiting area. Calculate how many patients you will see (on average) per day and plan your space to accommodate this number along with a few accompanying family members.
Smaller spaces don't mean you should sacrifice style.  The two-chair White Sands Dental Clinic is a boutique 77sqm. The fresh, beachy waiting and reception area are perfectly sized and suited to the village shopping centre location on the Sunshine Coast.
If your clinic sees a lot of patients, consider having more than one waiting area, with a separate area to cater for those who desire a quiet environment. A dedicated space for children, complete with toys and entertainment is a good idea if your patient base includes a lot of families.
The 380 sqm Northshore Dental & Oral Health clinic has many patients through the practice daily.   The clinic was transformed from an old house into the striking dental clinic of today.  The practice has 4 dental surgeries, large waiting area, state of the art steri, consult room, OPG and administration facilities.  There is also additional space upstairs for future growth.
Contact Us
Are you looking to fit out or refurbish your dental practice? As dental practice design and fit out specialists, Elite Fitout can help you turn your plans for your dental clinic into a reality. Our in-house design team works with you to make your dental practice layout efficient and effective – regardless of its size.
To discuss your plans for your dental clinic fit out, give the team a call on 1300 765 344.