When choosing the flooring for your medical clinic, there's much more to consider than what colour or design to select.
In this blog we explore the key factors involved when selecting your medical clinic flooring.
The Right Flooring Type for Your Space
Particular flooring types will suit different spaces within your medical clinic. In heavier traffic areas such as your waiting room and hallways, you will require flooring that is more durable and resilient. However, in spaces such as your treatment rooms and steri areas, infection control and slip resistance are of highest priority.
Reception and Waiting Room
If you're wanting to make a design statement with your flooring, then your reception and waiting area is the place to do it.
Carpet tiles are a cost-effective flooring option for heavy traffic areas. One advantage of carpet tiles is the ability to easily replace a damaged or discoloured tile or section without having to replace your entire room's flooring. There are also several brands of carpet tiles available that include anti-microbial protection to inhibit the growth of bacteria.
Plank vinyl offers a more natural-looking flooring option for your waiting area. With designs that mimic more expensive materials such as timber floorboards or marble tile, plank vinyl is durable and easy to clean with regular mopping. While a more expensive option compared to carpet, if your clinic has a nature-inspired or muted colour scheme, plank vinyl may well be worth the investment.
Sheet vinyl is a cheaper alternative for reception flooring. It is a great option for medical clinics with larger waiting areas.
Treatment Rooms
Sheet vinyl is the most popular material for medical clinic treatment room flooring. This flooring material is seamless, making it easy to clean and great for infection control. A very cost-effective option, it also offers excellent durability.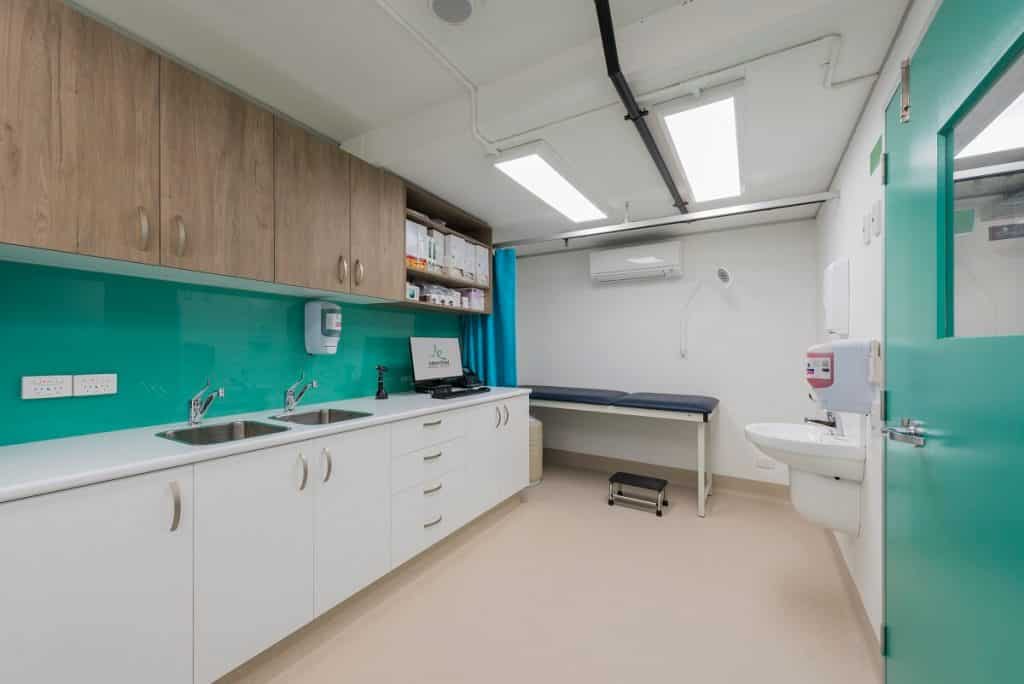 Consult Rooms
The choice of flooring in your consult rooms is up to your own personal taste. If you have used carpet in your reception, waiting and hallway areas, it makes sense to extend it throughout your consult rooms for a consistent look throughout the entire practice. If you use carpet in your consult room, sheet vinyl is often in-laid for waterproofing around basins.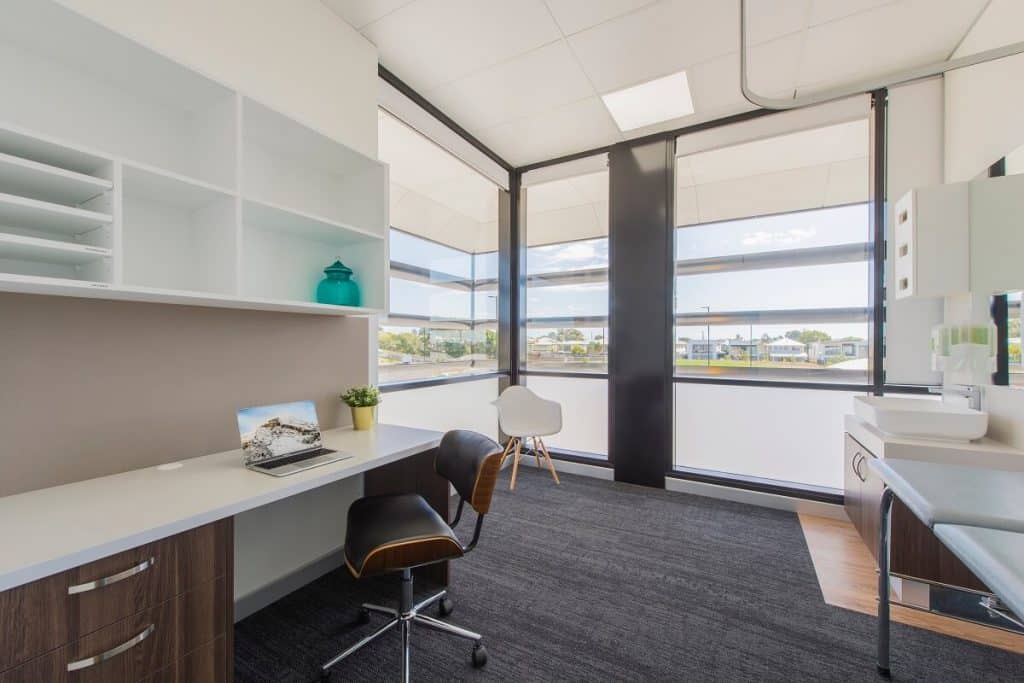 Alternatively, if you have plank or sheet vinyl in your main areas, continuing its application to your consult rooms will deliver a uniform appearance for your clinic.
The Importance of Infection Control
Flooring is one of the most used – and unknowingly dirty – surfaces in a medical practice. Therefore, the focus on the appropriate infection control of flooring materials is sure to be of importance especially since the COVID-19 pandemic.
When selecting your flooring options, ease of cleaning is a key factor, especially with cleaning protocols being increased in recent times. The appropriateness of flooring type for each space within your medical practice should be top of mind.
We are already seeing flooring designers working on new products with improved infection control. Antimicrobial-coated flooring products are set to become more widely available. These products will no doubt become a popular option in healthcare settings in the years to come.
Other Considerations
Regardless of the type you select, it is important that your floor coverings reflect the healing environment of your medical clinic rather than looking overly clinical. This can be achieved by selecting a floor covering that complements the design of your clinic, rather than selecting more stark-looking flooring.
You can also use your flooring to help patients find their way around your medical clinic – particularly if you have a practice that is larger in size. Patterned flooring or vinyl inlays can help to simplify wayfinding for your patients, making it easier to navigate your clinic efficiently.
Talk to Us
Are you planning a medical clinic fitout or refurbishment?  Talk to the Elite team about your plans or look through our gallery to see some of our recent medical fitouts.