When it comes to choosing the flooring for your vet practice, you'll need to consider more than just its visual appeal. Durability, ease of cleaning, and cost are key factors when selecting your flooring.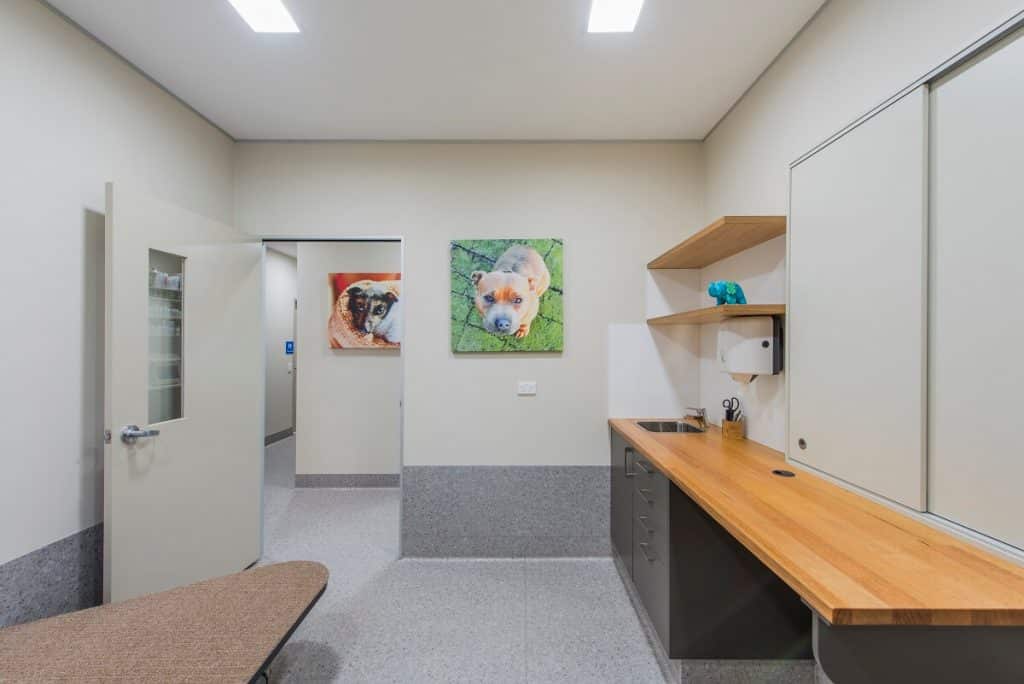 Flooring materials have come a long way over the years, with a range of options that are suitable for use in veterinary clinics – without sacrificing style.
Let's take a look at some of the flooring options available.
Vinyl
Vinyl is the most popular material for several reasons. Sheet vinyl – which is substantially seamless – is easy to clean and great for infection control. It also has excellent durability and is cheaper than other materials.
Having the same type of sheet vinyl in your "clinical areas" – consults, treatment, surgery, wards etc. makes for a uniform look in terms of design. It also sends a message to your clients that you are consistent in all that you do as a practice.
Most vet clinics have plank vinyl in their reception and waiting area as it is more aesthetically attractive than sheet vinyl. While plank vinyl has several seams, the edges are a high quality. When installed with the right adhesive, there is little risk of water or urine penetration.
Plank vinyl flooring comes in a range of colours and finishes, and covers all design aesthetics, from Scandinavian and natural styles to urban and industrial inspired designs.
Tiles
While vet clinics have been using tiles for some time, more recently this option has become less popular due to cost, cleaning and as an effective infection control measure.
Tiles can become stained from pet urine unless the grout is sealed. It is often difficult to remove the stains, which can result in etching on the grout and tile. This could damage the grout and result in long-term crumbling. Also, bacteria tends to flourish in stained grout, unless the grout is professionally cleaned on a regular basis.
Resin
Although a very expensive option, resin flooring is the most durable and is relatively easy to clean. It's a great option for use in the smaller wet areas such as wards, runs and laundries. However, it is not typically used in other areas, primarily because of cost.
Proper application is critical otherwise the resin will not stick properly, and is a lengthier process than vinyl or tile installation. As most resins emit a very strong odour when applied, you can't have clients or pets on-site during application.
Concrete
Concrete floors are typically long-lasting. While it is easy to clean the horizontal surface, cleaning in corners and areas against walls can be difficult. This creates the risk of bacteria developing in those areas.
As the concrete needs to be ground and sealed to protect it from stains and water penetration, use of this flooring option can be expensive. It can also extend the construction period. Regular resealing, especially in kennel areas, will be required.
Contact Us
Contact the Elite team today to discuss flooring options for your next vet practice design and fitout project. Or you can view our gallery for more ideas.