With a focus on clean lines and uncluttered spaces where less is more, it's no wonder the modern design style is a popular choice for many medical, dental and vet practice owners. While other practice design trends have come and gone over the years, the modern look offers a timeless appeal for any practice environment.
A Modern Design Approach
Modern design is focused on simplicity and is based on the premise that 'form follows function'. While a modern style is quite simplistic in its design approach, there's no need for your practice to look 'boring' or plain.
Incorporating warm timber accents, a splash of colour, florals in the reception area and engaging artwork all help to break up any potential starkness. This helps to provide a welcoming yet stylish environment for your patients.
Ripponlea Vet Hospital
Ripponlea Vet Hospital is located in inner-city Melbourne. The owner wanted an open and modern 'concierge-style' reception area to welcome their clients and reflect the warm and friendly service provided by the vet clinic.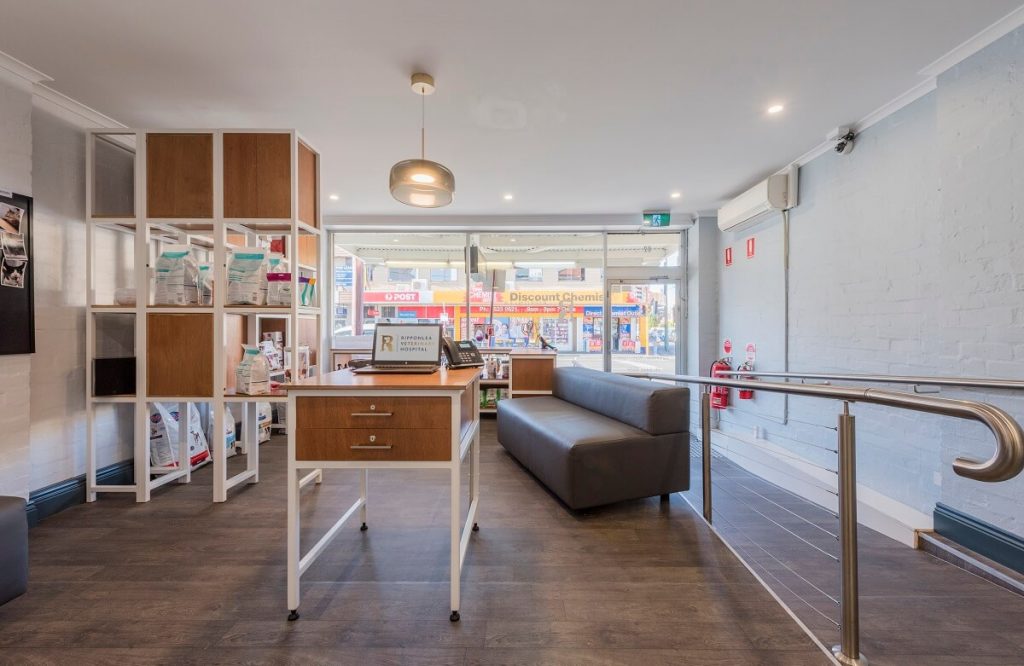 Elite incorporated a modern and neutral colour scheme for the vet hospital that features white, light grey and dark grey. The neutral colours continue across all surfaces in the clinic, with grey timber plank flooring contrasting with the crisp white walls and dark trims on the doors and door frames.
Northshore Dental
Located on the Sunshine Coast, Northshore Dental features a modern and streamlined style. Clean, straight lines are a highlight of the clinic, with striped paneling providing a focal point behind the reception desk. The continuation of the black lines onto the ceiling as 'beams' emphasizes the volume of the reception area.
Earthy orange and rust tones break up the otherwise neutral colour palette of the practice, helping to create a welcoming environment for patients. Further enhancing the warmth of the waiting and reception area is the timber-look vinyl flooring, which complements the marble-look reception counter.
Plastic and Reconstructive Surgery
In designing Dr Paul Belt's Plastic and Reconstructive Surgery practice, Elite chose a modern colour and materials palette to achieve the client's vision of elegance and professionalism.
Front and centre when entering the specialist practice is a long stone reception desk that is complemented by square-edged joinery in the adjoining waiting area. Etchings with black frames feature throughout the area, continuing the clean, uncluttered design.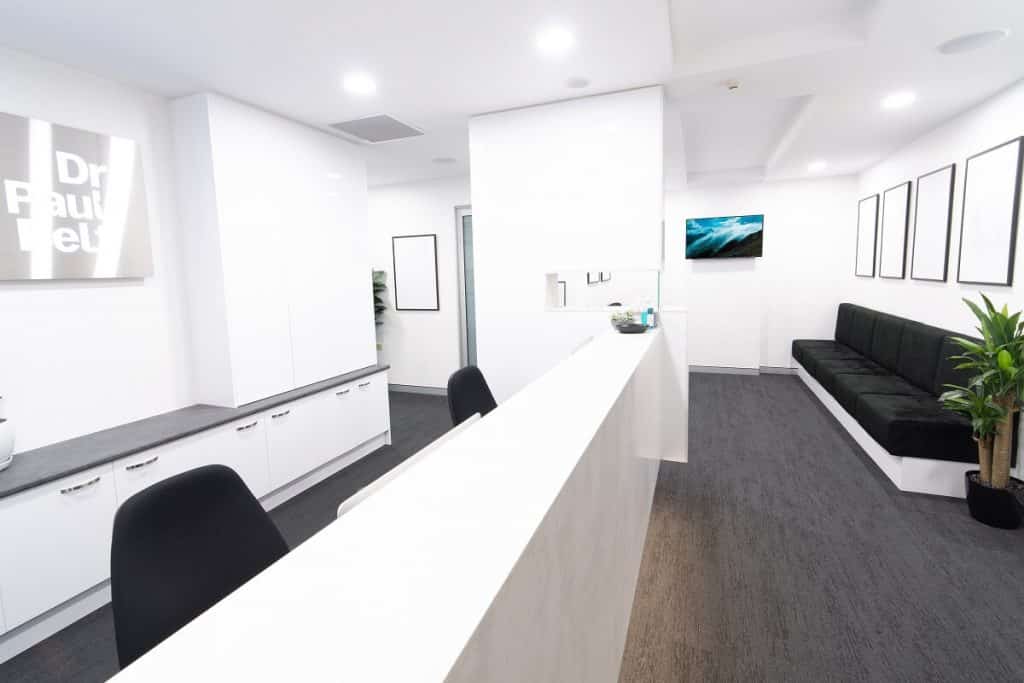 The carefully selected colour scheme is neutral and uncomplicated. Bright white walls feature throughout the clinic, with darker tones incorporated through carpeting, leather chairs in the consult rooms and streamlined sofas in the waiting area.
Contact Us
Are you considering opening your own healthcare or veterinary practice, or refurbishing your existing clinic? Our in-house design team can help you decide on the right style to achieve your practice vision. Call us today on 1300 765 344.