The layout plan is an important aspect of your new dental clinic design, so it's important that you start your planning early.
Efficient Floor Plan
Dental clinics of all sizes rely on a well-thought-out floor plan to ensure maximum efficiency throughout the practice. This is even more important for larger dental clinics due to the large amount of rooms in the practice.
The starting point for your floor plan is the number of surgery rooms you want in your practice. Your design and fitout expert will use this to form the basis of your practice layout, helping to make the best use of space as well as maximising the efficiency of movement within the practice.
Talking through different floor plan options is a crucial part of your fitout project – as a well-designed layout is essential in meeting your business goals.
Today's Dentistry
At Today's Dentistry, the facility has eight dental surgeries to meet the needs of their busy dental practice.  The 460sqm space has OPG and CBCT operations, a state-of-the-art lab with a 3D printer, steri/refresh rooms, as well as office and staff facilities.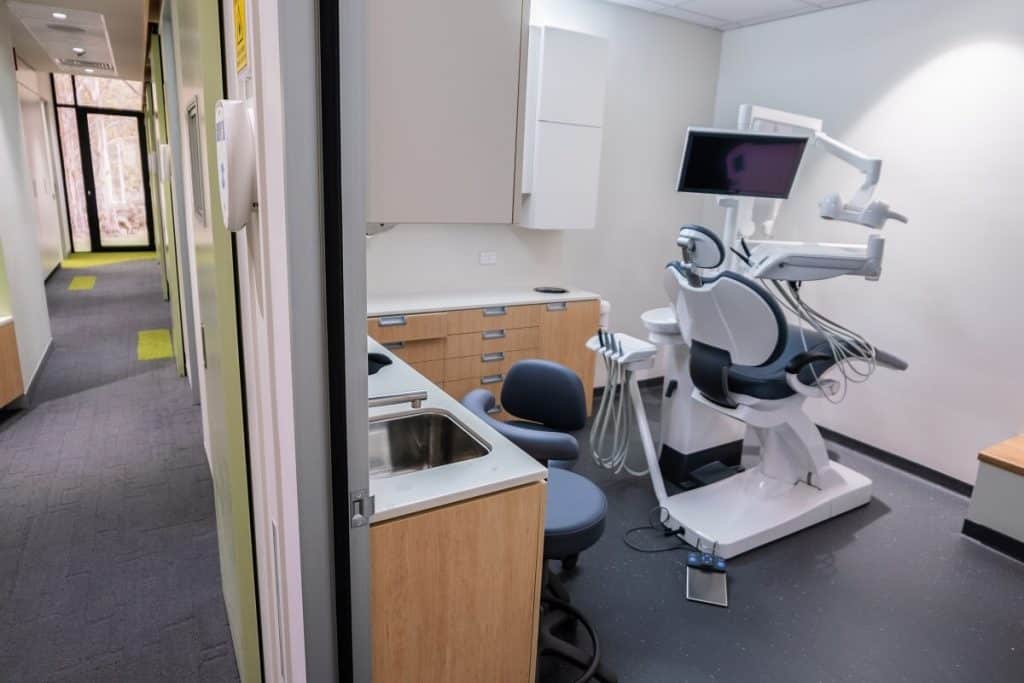 Equipment Space
A larger dental clinic means you have more space but it is essential that your equipment layout is planned for maximum efficiency.
Your design and fitout expert will collaborate with you to ensure your practice layout allows space for the efficient use of your equipment. They will help to plan:
Equipment placement and installation
Electrical plan, wiring and power point placement
Function and flow based on the location of your equipment
Options for co-location of equipment, such as your steri area and lab
Reception and Waiting Area
First impressions count, so your reception and waiting area needs to make your clients feel comfortable in your premises and be a workable space for you.
The size of your reception and waiting area is also important as it will need to easily accommodate your patients (and accompanying persons such as children or partners). For larger dental clinics, it's worth considering designated areas within your reception space for patients checking in for their appointment, and for those who are on their way out and need to make payment.
Southport Dental
At the Southport Dental clinic, the design of the reception and waiting area allows for a patient's "journey" throughout the purpose-built six-chair practice to flow seamlessly. From entering the practice and checking in, to accessing the surgery rooms and then paying at a dedicated counter, patients can easily and intuitively move throughout the different spaces in the practice.
Contact Us
Are you looking to fitout or build a large dental clinic? Contact us today to talk through your plans.