Whether you're starting a new medical practice or updating your existing fitout it's important to give careful thought to your lighting design. Modern clinical settings are about creating bright, welcoming spaces with cool, diffuse lighting that's as functional as it is attractive. It's a far cry from the fluorescent laboratory lighting of yester-year!
In this article, we'll look at a few medical practice lighting design ideas, from lamps to cove lighting, and how correct lighting contributes to patient wellbeing.
Lighting for Natural Effect
Medical practices are not just places where procedures happen. They also require a human, personal touch. They are spaces where patients should feel welcomed and comfortable.
The reception area is an opportunity to use light to add character to your medical practice. Instead of stark direct light, why not use hanging lamps with warm LED globes? These create soft, diffused light that illuminates without harsh shadows. Rather than sit in the glare of bright light, this more natural light puts patients at ease.
The reception desk could have built-in down lights to make it stand out. It's even possible to build the desk from translucent material fitted with interior lights to make a glow. Combined with your medical practice's name, this can become the branding centrepiece of your business.
Similarly, a translucent illuminated wall panel could provide the same warm, diffuse light that creates a relaxing atmosphere.
Consulting Rooms
Consulting rooms are intimate confines where your patients confide in you. It's where good and sometimes not so good news is imparted. The last thing patients want is to feel they are under a spotlight.
Rather than a direct overhead light, think about using diffuse lighting, where you and your patient sit, or perhaps lamps suspended from the ceiling. Over on the examining table, direct white light can be turned on when needed.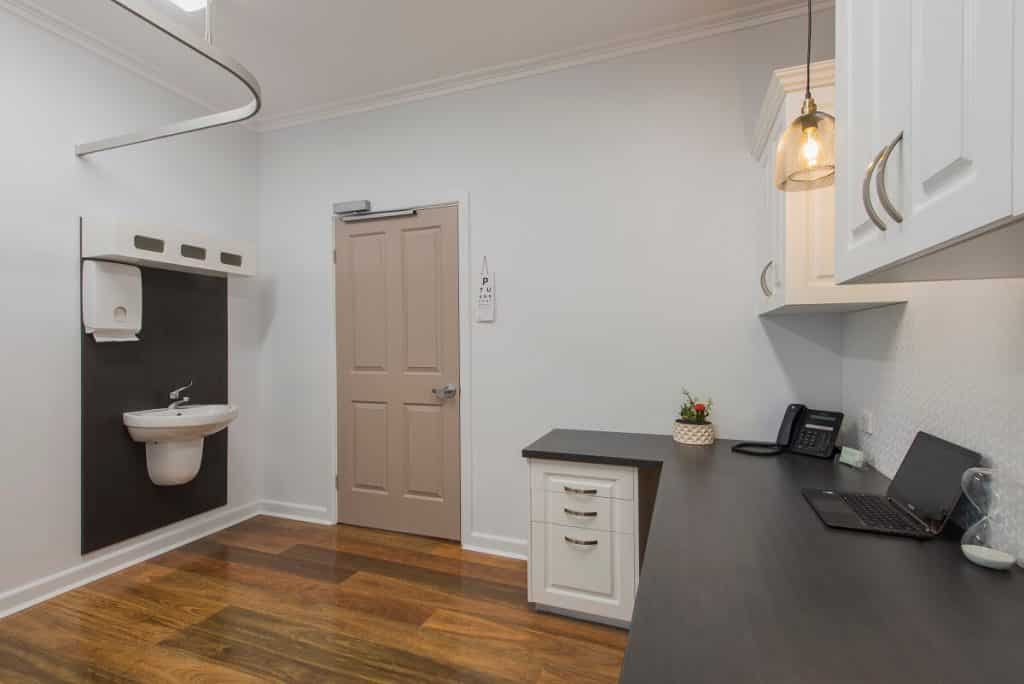 The tricky part is to find that balance between making the patient feel at ease and having enough light to make the room feel cheerful.
Ceiling mouldings with LED cove lighting around the perimeter is one way to subtly raise light levels without light beaming directly into the room.
Avoid the Laboratory Lighting Syndrome
Just like physical barriers, lights can divide spaces, so when lighting your medical practice avoid a blanket 'one light fits all' approach to design.
Lamp shades focus light on an area – highlighting a row of seats, for example, or a magazine rack. The diffuse lights from translucent surfaces or reflected from walls and ceilings create another space.
Built-in ceiling perimeter cove lighting could work in reception as well as the consulting rooms. Bounced off a white ceiling, cove lighting creates a flattering light that fills the room without being conspicuous.
All these lighting ideas can be incorporated into your medical practice through good design. Contact Elite Fitout or phone 1300 765 344 to find out more about lighting for your medical practice.