Faced with a growing demand for dental implant therapy, Dr Michael Sempf decided to open a new practice in Helensvale dedicated to dental implants.  He appointed Elite to design and fitout the tenancy and turn his vision for a high-end stylish dental clinic into reality.
A key requirement for the new practice was an impressive and comfortable waiting room. When entering the practice, patients are presented with a bright and modern reception and waiting area, complete with refreshment station.
Design
Timber veneer American oak panels extend from behind the reception desk to form a feature along the entire length of the waiting room ceiling. Stone white ceramic tiles extend from the entranceway through to the reception desk, offset by a shale-coloured carpet feature inlay in the waiting area.
The use of colour was an important aspect of the practice design, with blue accents applied throughout the practice to complement the timber finishes and bright white floors and walls. A cobalt blue fabric sofa is a key feature of the waiting area, with dark blue splashbacks used in the surgeries, steri and lab rooms.
Layout
The layout of the 203sqm space has been cleverly designed to fit in many rooms. The clinic features three surgeries, large procedure room with adjacent change room and recovery lounge, separate steri and lab rooms, a consult room, combined plant and store room, staff room and office.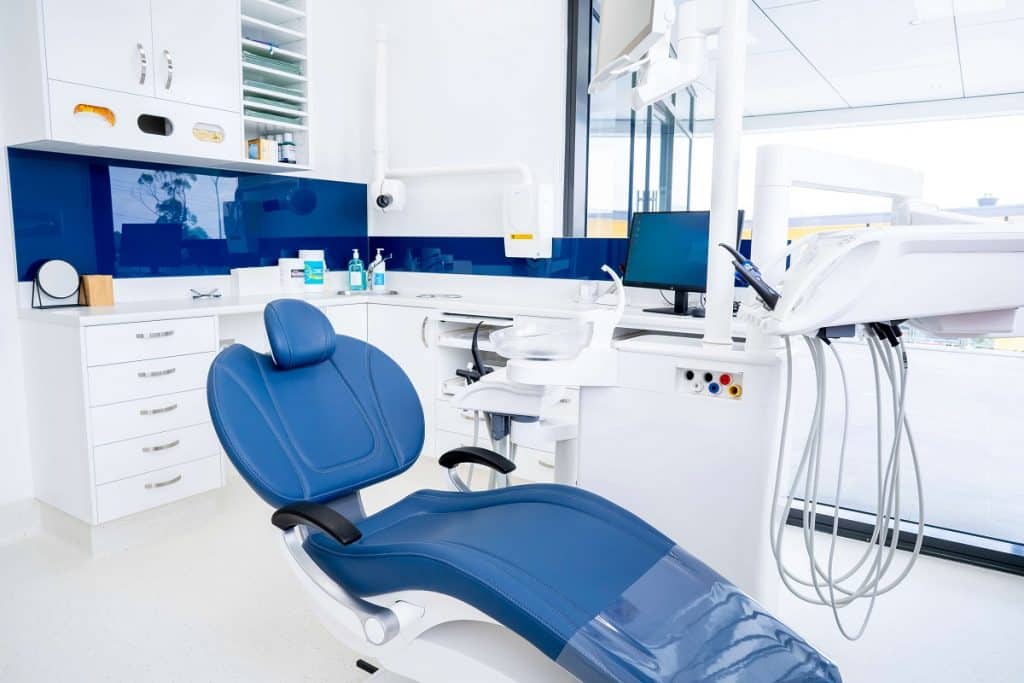 Being located on the first floor of the building, the practice also includes a 36sqm balcony, which is utilised as a relaxing outdoor space for staff.
Location
Location was an important decision in the planning for the new practice, as it needed to be accessible for existing patients from the Southport clinic, as well as being conveniently located for potential new clients. The GC North Medical Hub ticked all the boxes due to its position amongst one of Queensland's fastest growing population corridors, as well as being an extension of an existing successful retail precinct in Homeworld Helensvale.
Scope
The medical hub required a comprehensive set of design and fitout guidelines and regulations to be adhered to. The Elite team worked with Dr. Sempf to schedule the fitout program of works to adhere to the timeframe specified by the terms of the tenancy lease, and to meet building regulations.
Dr Michael Sempf was delighted with the resulting stylish dental clinic:
"I adore the timber finishes and quality of the fitout in general. Without exception, every patient that has entered the practice is thoroughly impressed by the style and quality of the fitout."
Contact Elite today to discuss your new fitout or refurbishment.
Photos courtesy of New Black Studios – Commercial