The Point Vet recently moved to a larger, purpose-built facility in Paradise Point. The team have been helping heal pets in their local community for nearly ten years.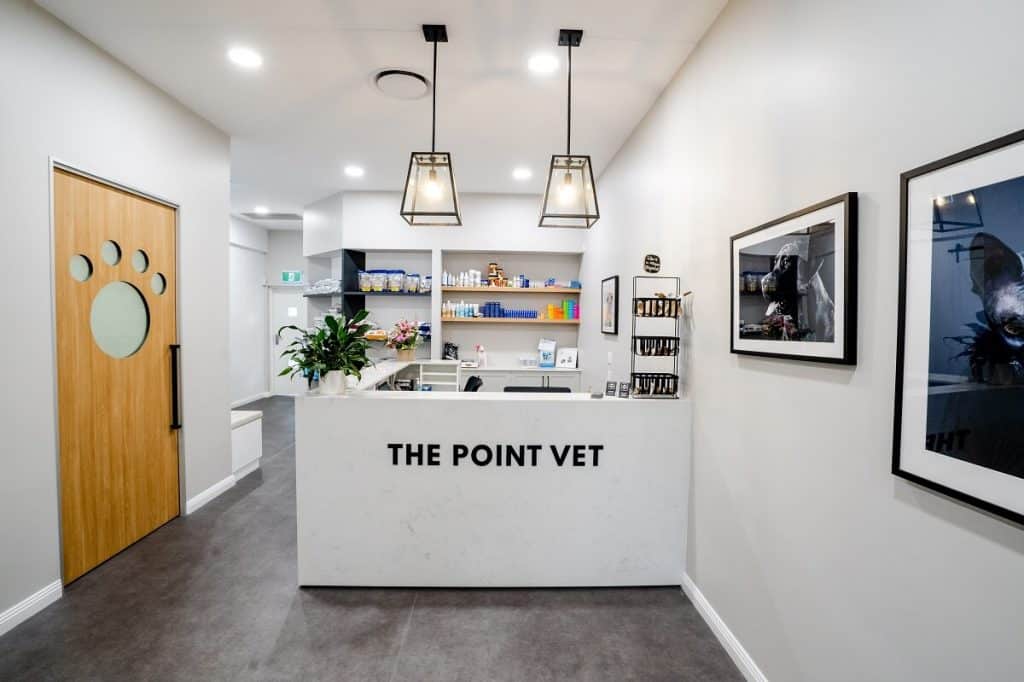 The new 193sqm vet clinic is welcoming and stylish, and features three consult rooms and a consult/grieving room with separate exit. The fitout provides solutions for the space, flow and noise control issues from their previous premises.
The Paradise Point vet fitout includes steri, pharmacy, surgery, imaging, treatment and lab areas, staff offices, amenities and dog ward. The clinic features the latest diagnostic and x-ray technology and is also a full surgical animal hospital.
The reception area exudes an air of sophistication with soft pendant lighting and downlights highlighting the off-white stone reception desk and walls. This contrasts well with the concrete-look grey flooring and the natural oak finish consult doors with paw prints. The use of animal silhouette wallpaper in the reception area adds a unique and playful touch. Elegantly framed animal pictures adorn the walls in the reception, waiting area and hallway.
The clinic exterior leaves you with no doubt that it is indeed a vet clinic, with the charcoal and white striped awning reinforcing the brand colours. The clinic windows feature white silhouettes of dogs and cats, which adds a striking contrast against the tinted dark grey windows.
The Point Vet commissioned the driveway wall art that by local Brisbane artist Gus Eagleton featuring Marls Supermutt and his bud (the late) Bosley.
Adrienne Porter from The Point Vet said "The guys at Elite were fantastic to deal with. Having someone onsite managing the project every day meant we didn't have to. The workmanship is great and we are very thrilled with the end result".
Contact Us
Are you looking to undertake a vet practice design, fitout or build? Contact us on 1300 765 344 to discuss your practice needs.
Photos credit: New Black Studio – Commercial