Elite recently completed the design and construction of a 1200sqm veterinary referral hospital in Dandenong that provides emergency and specialist services to pets.
Emergency services are provided by AEC. They also worked with VRH in their previous hospital location. The emergency and critical care department support specialty services 24 hours, 7 days a week and aims to increase referral services to patients.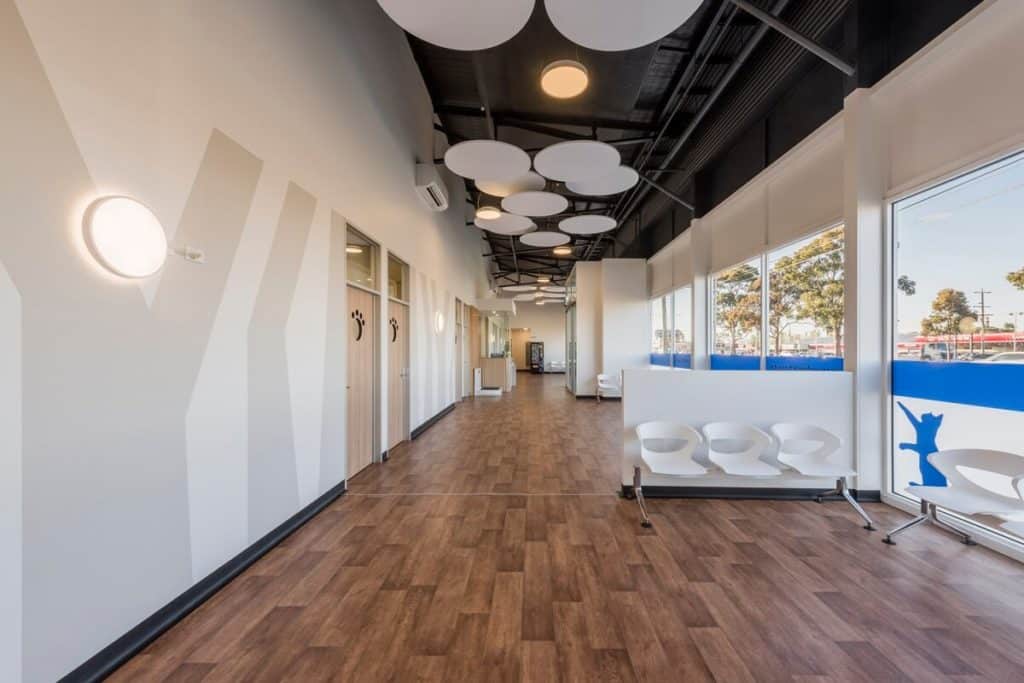 The facility is one of the largest purpose-designed veterinary hospitals in Melbourne. It features advanced surgical theatres, imaging suites, and dedicated canine and feline intensive care units. It also houses a custom built 1.5T MRI, CT, digital x-ray, ultrasound and fluoroscopy.
The ground floor of the new veterinary referral hospital includes 10 consult rooms, grieving room and treatment areas. There are specific facilities for cats and dogs, with separate wards, a cat boarding area and dog runs.
Surgery kennels, 5 theatres, treatment room, pharmacy, emergency drop off zone and chemo dog/cat areas are also on the ground floor. There is also an ICU cat and dog facility as well as MRI, CT, Endoscopy, Ultrasound and X-ray rooms. The mezzanine houses an office and staff amenities.
A classic colour palate features throughout the hospital. Neutral low VOC paints are on the walls, and timber-look flooring installed in the reception and waiting areas. Vinyl flooring in various shades of grey adorns the treatment, surgery, steri and lab areas, facilitating easy cleaning and infection control.
AEC's Peter Hammond said "Elite oversaw the largest project in the history of our company and were extremely supportive throughout. I would highly recommend Elite Fitout for projects of a similar nature."
See more projects like this or contact us to talk about your new design, fitout or build project.