The owners of Medical on Miami had a clear vision for their practice: to provide local and accessible treatment in a new and modern facility.  The practice is the flagship tenant for the medical facility, with other tenants in the building providing X-ray, pharmaceutical and pathology services to the community.
The owners enlisted Elite's assistance to design and fitout the two-level tenancy, and turn their vision into reality. The design of the medical centre drew inspiration from the ocean views enjoyed from the premises. The fitout features a beachy, fresh look, with light blue and white featured throughout. This colour scheme reflects a relaxed, coastal vibe, and is cohesive with the clinic's location on the Gold Coast.
Light coloured floorboards feature throughout, with stunning images from renowned surf photographer Ted Grambeau adorning the walls. Prism panels provide a striking background behind the crisp white reception desk, with two white decorative pendant lights above the desk.
Reception Area
The reception area is unique as it is has two separate counters for checking patients in and out. This ensures efficient patient flow during busy times.
The large, open-plan reception and waiting area required clever planning to ensure the space would provide a warm and welcoming environment for patients.
Open timber batten screens divide the space. This assists with the acoustics of the waiting area as well as providing a highly decorative effect. The openness of the battens still allows reception staff to easily see patients in the waiting area.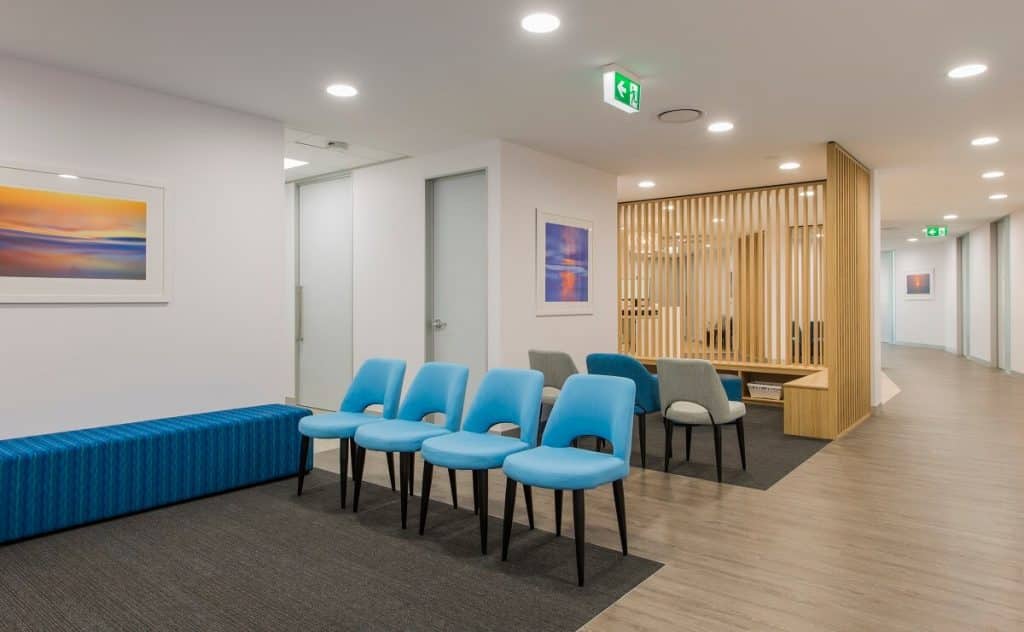 Medical on Miami Director Heather McLellan-Johnson was full of praise for the design and fitout process.
"Elite understood our vision including colours and features, and executed with precision," she said. "Nothing was too difficult, including after service when the project was completed."
View more photos of the Medical on Miami fitout.