When it comes to designing the reception area for your medical practice, the focus needs to be squarely on your patients.
Your reception area determines what your patients' first impressions will be, so it's essential that you meet their needs from the outset.
The front desk, the people behind it, the room and environment in which it's located – each of these elements has an impact on how your patients will feel about you and your practice, when they step through the doors.
So how do you ensure your reception area will meet your patients' expectations, and deliver a positive experience in your medical practice?
Layout
The first step to making a good impression on your patients is to have a reception desk that is clearly visible and easy to find as soon as they walk through the door. This helps reduce patient stress at your first point of contact – especially if it is their first visit to your practice.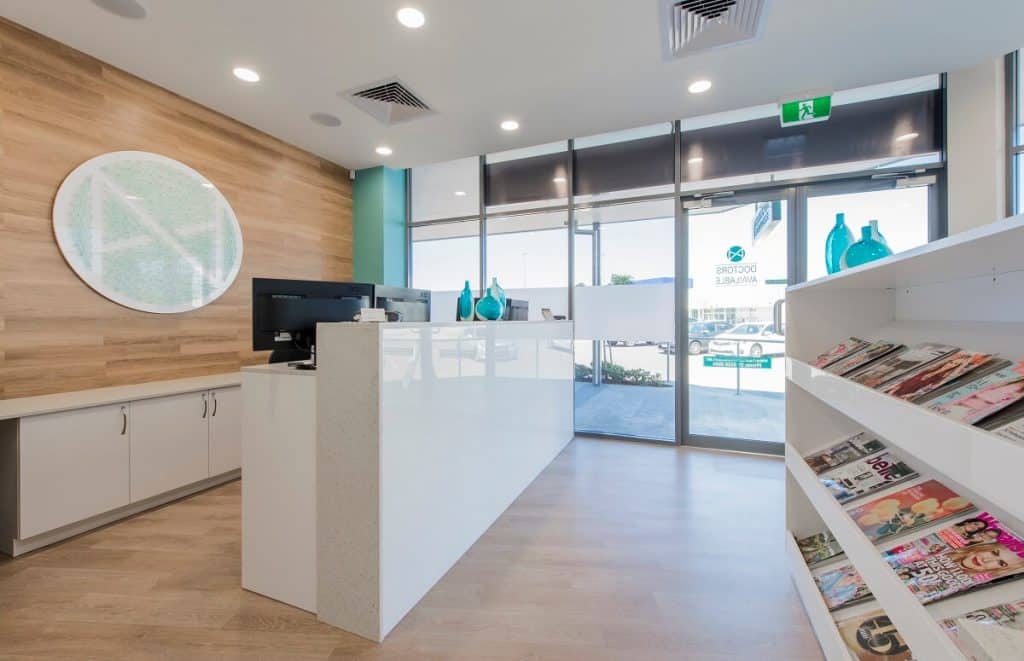 Ideally, your patients should be able to tell where they need to go to speak to your receptionist(s) the moment they step into your practice. If you cannot make your reception desk's location obvious and immediately visible from the front door, consider using signage.
Signage
Clear directions and friendly signage also go a long way to meeting the needs of your visiting patients.
Welcoming signage helps to "humanise" your practice, while clear directional signage helps to limit patient stress. If you have separate "check in" and "check out" counters, having these clearly signed will help to streamline your patients' time at the reception desk.
Signage is easy to incorporate in both new medical practice fitouts and refurbishments of existing clinics.
Colours and Finishes
Parts of your medical practice need to be more clinical, but that doesn't mean your reception area needs to look that way.
Instead, feature paint, wallpaper, calming or friendly colours, and other interesting finishes in your reception area to set a friendly, positive and welcoming tone for your entire practice.
If your practice focuses on children or families, you may also want to consider including child-friendly décor and colours.
Lighting
Lighting is vitally important in any space, and your practice's reception area is no exception.
Where possible, it's worth maximising natural lighting for its mood-lifting and environmentally friendly benefits. You can also complement this with a variety of warm, diffused lighting to create a welcoming and homely feel.
For example, you could use both overhead and tabletop lighting along with large windows or skylights. A well-lit environment is more welcoming than a dull or starkly lit environment. So it's worth paying attention to the lighting in your reception area.
Learn more
As specialists in medical practice fitouts, Elite Fitout Solutions has helped to create patient-centric welcoming reception areas for a variety of medical centres.
View our gallery to see examples of our past projects. Or contact Elite today to discuss your upcoming medical practice fitout or refurbishment.