Storage is an essential element in any vet practice. However, it needs to be well thought out, and designed with efficiency and function in mind.
Here's a few storage ideas to think about for your vet practice.
Smart Shelving
All too often, shelves don't extend as high as they could, wasting valuable storage opportunities. By using floor to ceiling shelving, you can save plenty of space while also providing places to store your vet items.
And, you can fit a lot of items in a narrow storage room when you run shelves along both walls and across the back.
Cabinetry Options
Everyday items can be stored in central, easy-access areas. Cabinets are a great option for "point-of-use" storage, which offers a flexible and accessible way to store items that you need regularly.
Choose solid doors if you're storing items that can get a bit messy. But make sure you add labels to ensure quick access to your items. If visibility is important, cabinets with glass doors will let you quickly locate your items. And if you need to continually retrieve items from your cabinet every 30 seconds or so, then an open cabinet setup – with no doors – might be your best option.
Divided Drawers
You can keep all your smaller everyday items organised using adjustable drawer dividers. Divided drawer space allows the items to perfectly fit in.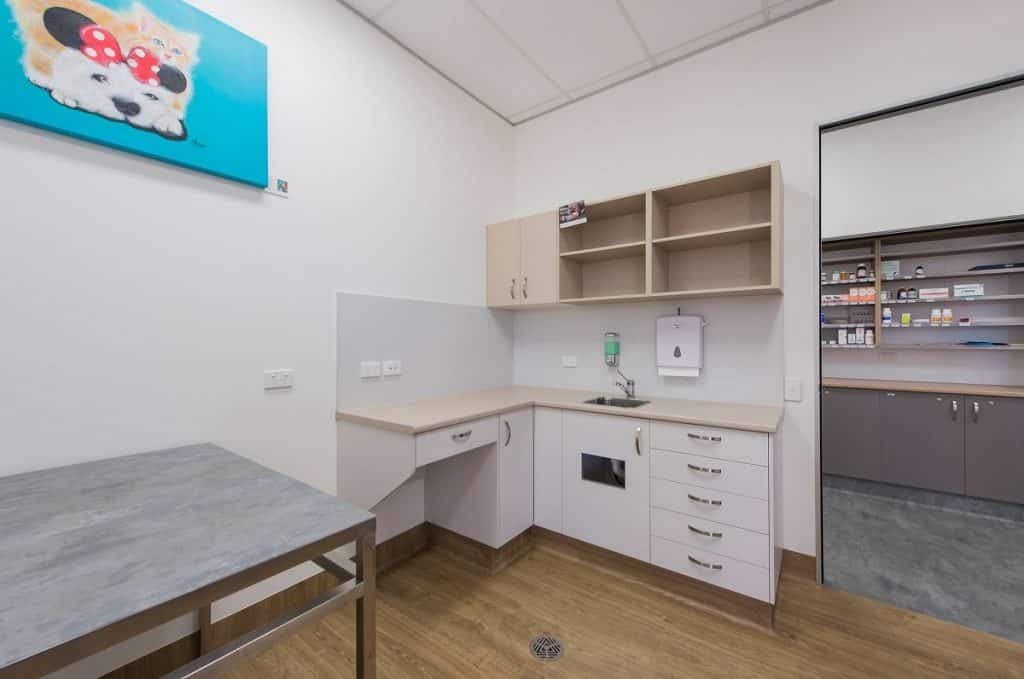 If you have multiple consult rooms, it's well worth having your drawers set up the same way in each room. This means you can easily locate and select the items that you require without any needless searching.
Bulk Storage
It's best to designate a single storage room for bulk storage, rather than have items stored across multiple rooms across your vet practice. While a bulk storage room requires a dedicated space, it can be located in a less-accessible area. By having all your larger and surplus items in one location, you'll not only maximise your use of space, but you'll be able to monitor your stock levels.
Contact Us
Are you thinking of refurbishing your vet clinic, or opening a new practice?  Take a look at some of our recent vet clinic fitouts. Or give the team a call on 1300 765 344.