Your consulting room is likely to be the space where your patients spend a significant amount of time – and it can have quite an impact on the quality of their visit with you.
So, whether you're fitting out a new specialist suite or refurbishing your existing practice, it's worth taking the time to get your consulting room design perfect for your use.
Physical Setup
The way you arrange the physical space in your consulting rooms – as well as the placement of furniture – can impact patient experience. Indicators of positive patient experience – including eye contact, interactions between patients and doctors, and feelings of empowerment – can all be influenced by your room's setup.
A good setup supports your workflows for natural movement between your desk, examination table, and other equipment.
Patient-centric Aesthetics
Sickness, pain, uncertainty, worry, and anxiety – or a combination of all five – can all negatively affect patient experience. However, with the use of carefully-selected distractions and other design features in your consulting room, you can help to make your patients' experience in your specialist practice a more positive one.
Beginning with the basics, it's important to ensure your consulting room is well-lit and free from excessive noise. Lighting should be easy on the eyes and should adequately light each room.
Your room should maintain a comfortable temperature, have a calming and welcoming colour scheme, and offer patients privacy. Space for family or friends to accompany a patient in your room is also a good idea.
Positive Distractions
A proven design strategy for improving patient experience and helping to lower anxiety is to include "positive distractions". Coloured walls, murals, decals, artwork, and other visually appealing elements offer an easy way to achieve this. Plants or a view of some greenery outside also offers another way to help make your consulting room more inviting. Bringing natural elements indoors has also been found to offer wellness benefits, so this can be a win-win approach.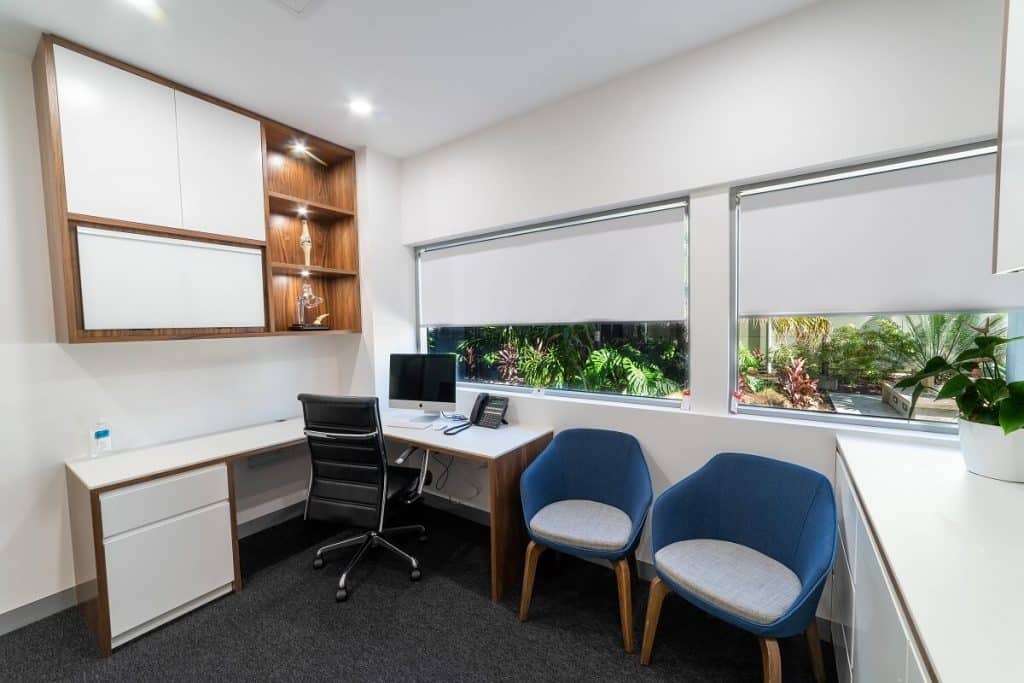 If your practice includes the treatment of children, you could even have a space on your wall where you display their drawings.
Learn More
Elite Fitout Solutions has helped numerous specialists with the design, fitout or refurbishment of their clinics, so we know a thing or two about consulting rooms.
Take a look at our design and fitout project gallery for inspiration.