A staged project involves completing various aspects of a project in carefully isolated stages. Staging is most commonly used during a refurbishment or extension so that the existing facilities can continue to function throughout the project.
This is important for facilitating business continuity, with all the benefits this entails. However, for medical and veterinary practices, the benefits extend further. Staged projects ensure your practice can continue to treat patients as it normally would. This is not just important for you, but for your patients as well.
The extension and refurbishment of Park Ridge Animal Hospital is an example of a successful staged project that was undertaken by Elite Fitout Solutions.
Park Ridge Animal Hospital
Meticulous planning is always necessary for a staged project to be a success, and the Park Ridge Animal Hospital project was no exception. A carefully staged timetable was developed. This allowed the practice to remain open while a new wing was built and fitted out. Once this was completed, the practice moved to the new portion of their premises while the existing portion was refurbished.
The first aspect of the project was the creation of a temporary entryway and car parking area. This facilitated the construction of the new wing. Site works were staged to form car parks, pavements and a new entry crossing from the main road, without fully interrupting the practice or its patients. The fitout for the new wing was then completed. This wing included a new waiting room, retail space, consulting rooms, pharmacy, lab and more.
Linking corridors and atriums were added to connect the existing facilities to the new ones. The practice was able to operate out of the new wing while the rest of the facility was refurbished. As a finishing touch, new flooring, lighting, fittings and paint created a holistic feel across the entire practice, old and new. Thanks to the practice's uninterrupted operation during this project, staff were able to continue to work. Patients were able to be treated, and the owner was on-hand for any last-minute decisions. Both the project and practice were able to run smoothly as a result, benefiting everyone involved.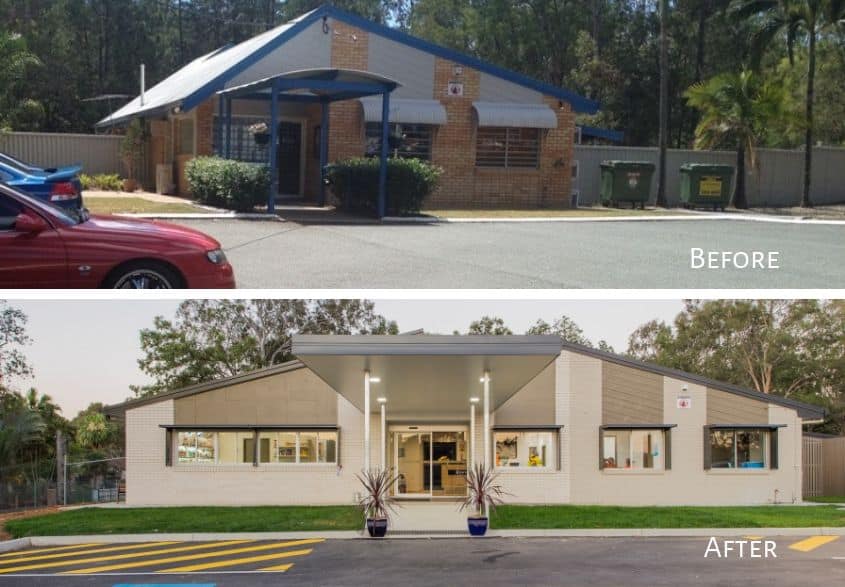 Learn more
Are you considering extending or refurbishing your existing practice?   At Elite Fitout Solutions, we know how to run staged projects to ensure your practice can continue functioning while still receiving the facelift or extension it needs.
Contact us today to discuss how we can assist you with your next project.