If you're considering using timber in your medical, dental or vet clinic fitout, one of the decisions you may face is choosing between timber panelling or timber veneers.
Both timber panels and veneers can be used in a variety of contexts across your practice fitout. This can include cabinetry, desks and wall finishes. In order to choose the right product for you, it's important to be aware of the various advantages and disadvantages inherent in using these two different timber products.
Did You Know?
Many people presume that timber veneers are synthetic because of the name "veneer". However, this is simply not true. Timber veneers are made by cutting or peeling certain logs to achieve a variety of looks and grains. Similarly, timber panels are also cut from wood, though they're almost always much thicker.
Environmental Considerations
Because timber veneers and timber panels are derived from the same natural resource (wood), they can both be considered to be renewable and sustainable materials. This is especially the case if you buy from sustainable suppliers with the right environmental credentials.
Widths
In Australia, 0.6mm is considered to be a standard timber veneer cut. However, some veneers can also come in narrower and wider sizes. Despite their narrow size, veneers can be very strong. In contrast, timber panels are often as much as 10-15mm thick, thereby offering similar or superior strength.
Durability
While the width of timber panelling vs timber veneers can affect their respective durability, a more important consideration is the type of wood you choose. Panels or veneers made from more durable timbers will have more durable qualities. So keep this in mind when selecting your preferred wood.
Longevity
Over time, any finishes in your practice will be subjected to the pressures of day-to-day business. While damage to timber panels can often be solved by sanding back and re-staining, veneers are not thick enough to support this approach. This means that veneers may need to be replaced more regularly.
Price
Because they're made from narrow boards of wood, timber veneers are generally cheaper than timber panels. Of course, as with any investment in the materials for your practice fitout or refurbishment, this price difference must be weighed against your long- and short-term needs and budget.
Fitout Example
South Coast Radiology is one example of a fitout project that incorporated dark timber panelling. In this fitout the timber is offset by a deep royal blue.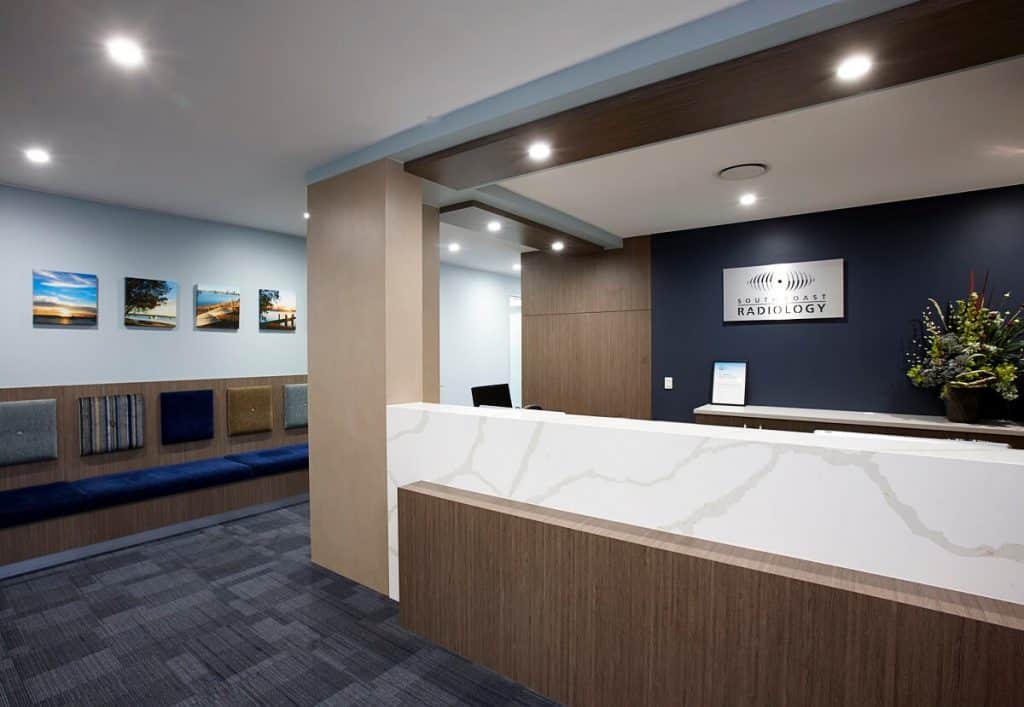 You can see several other examples of timber panelling and veneers throughout our fitout project galleries.
To discuss your next practice fitout or refurbishment, contact Elite today.