One very effective way to enhance your patients' experience in your clinic is to incorporate a refreshment area in your waiting room. Coupled with comfortable seating this is a great way to ensure your patients' wait is a pleasant one.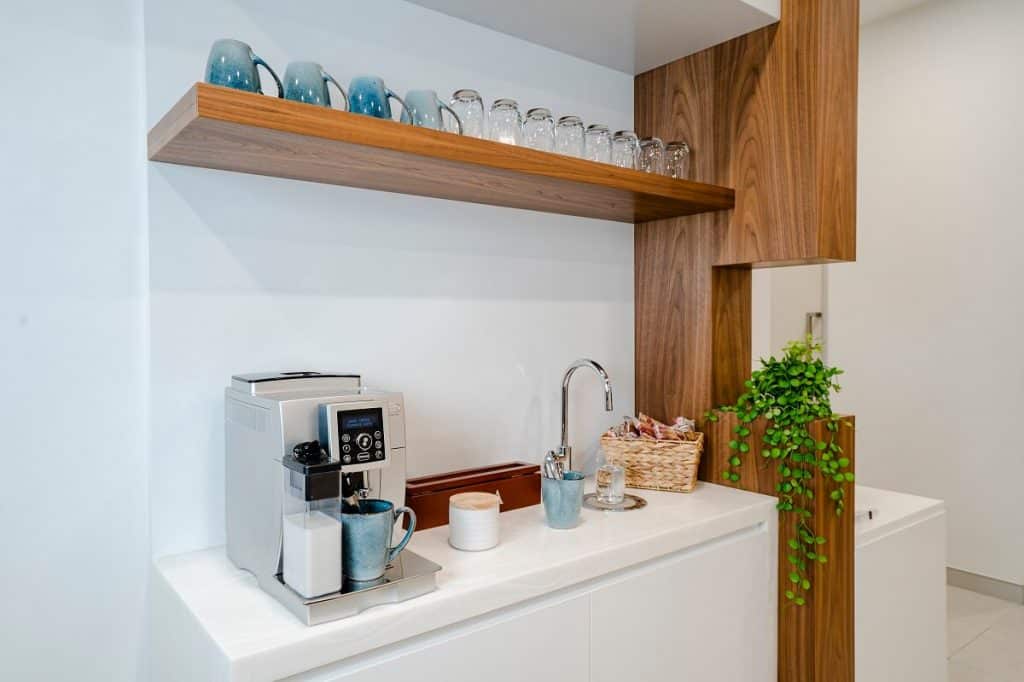 Providing refreshments helps to make your patients feel relaxed and sets the tone for their visit.
Setting Up Your Refreshment Station
It's important to position your refreshment station at a height that keeps it out of reach of children. This is important for safety (you don't want kids spilling boiling water on themselves) and to ensure that parents can regulate what their children indulge in.
When setting up your refreshment area, make sure that everything is available and easily accessible – such as cups and spoons – so your patients can help themselves, and staff time isn't taken up finding utensils.
With infection control being of utmost importance at the moment, you may want to consider providing disposable cups and spoons.
A coffee machine (that is easy to use) rather than instant coffee will provide your patients an upgraded (and less messy) experience. For cold drinks, you could opt for bottled water in a glass-door refrigerator, a water cooler with recyclable cups, or plumbed, filtered water with cups. Don't forget bins and recycling bins nearby for any rubbish.
Drinks
When selecting the drinks to have on offer, it's best to limit the selection to the most popular options such as water, coffee, and tea. If children make up a large part of your patient base, you may wish to provide additional beverage options such as hot chocolate, Milo, or juice.
If you run a veterinary practice, providing water bowls and even a small treat for your furry patients could be an option. For dental clinics, water is probably your best choice, as patients may not feel comfortable consuming anything else prior to a check-up or procedure. Medical practices may choose to steer clear of sugared and caffeinated beverages that could affect readings such as heart rate, and run counter to promoting "wellness" among your patients.
Snacks
When providing snacks for your refreshment station, there are a few things to consider. To begin with, select snacks that are inexpensive, so your beverage station doesn't cut into your profit margins. You'll also want snacks that are pre-packaged to keep things sanitary and in smaller portions (such as biscuits or crackers), rather than nuts (allergies).
Complimentary toothbrushes and toothpaste instead of snack options are your best bet in a dental clinic. You can even brand these items with your logo or clinic name.
Contact Us
Are you thinking of refurbishing your current dental, medical or vet clinic, or opening a brand-new practice? Take a look at our gallery to see examples of our recent fitouts, or give the team a call today on 1300 765 344 to discuss your plans.