When it comes to the setup of up your vet clinic, the design of your clinical areas is a critical element of an efficient practice. Clinical areas are typically located in a central position towards the back the premises, and include treatment areas, pharmacy, wards, sterilisation and surgery rooms.
In part two of our vet clinic design setup series, we take a detailed look at each of these key areas and share our top tips for creating efficient clinical spaces.
Treatment & Pharmacy Areas
Your treatment areas and pharmacy lab are best located where they can be easily accessed from anywhere within your clinic. Consider positioning these areas directly behind the consult rooms to give staff easy access to pharmacy medicine or testing equipment.
The most efficient treatment areas are an open layout for easy staff movement. This also allows treatment staff to observe animals in the recovery area and other activities while going about their regular tasks.
Surgery, Steri & X-Ray
Ideally, if space permits, the surgery, steri and X-Ray rooms should be situated adjacent to the treatment area.
To further enhance efficiency, all your key services (e.g. power, water, vet gases etc.,) and joinery containing required consumables should be easily accessible to staff at each work area i.e. treatment tables or other surgery prep spaces.
If possible, try to locate the steri adjacent to your surgery rooms, with a "pass through" in the walls connecting the two areas. This helps to enhance efficiency by creating convenient storage spaces for surgical packs and eliminating the need to leave surgery to collect instruments or consumables.
Wards & ISO Areas
The remaining space can house your wards including an isolation ward, the staff room and laundry. Consider installing your ward cages on a joinery plinth so there's no space underneath for dust to accumulate. This will allow for the floor vinyl to be coved to the plinth as with the other joinery units and walls, making cleaning super simple.
To maximise the use of vertical space, a shelf above the cages provides a convenient area for storage as well as providing a place to mount services such as power and oxygen points. However, be careful not to create an OH&S issue by making them too high.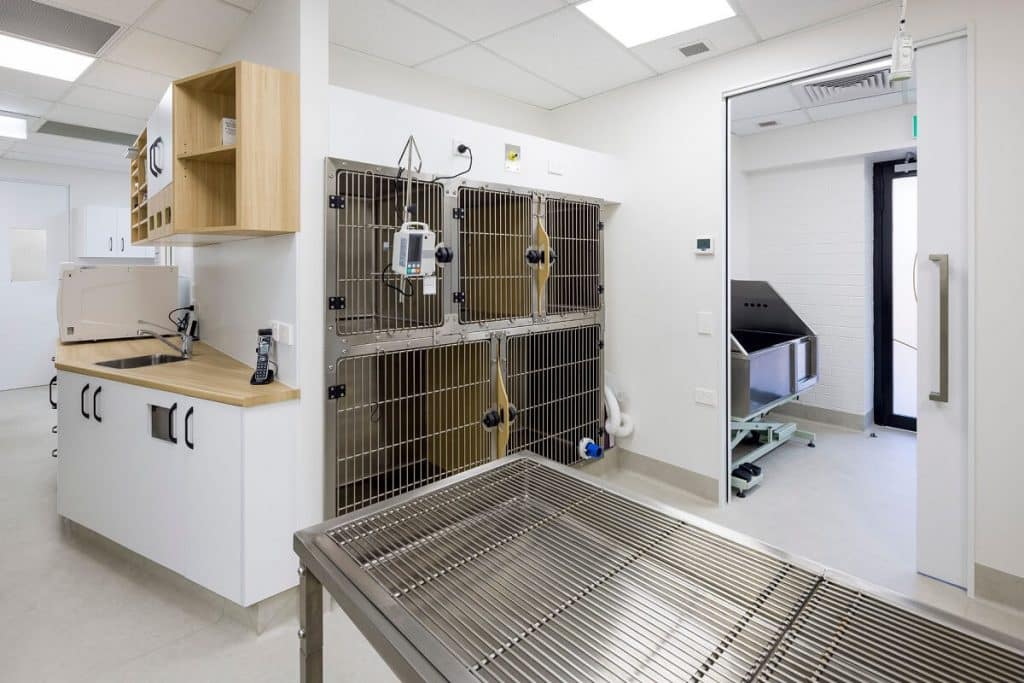 It is also recommended to have an exhaust ventilation system installed to rid the area of any unpleasant odours.
Contact Us
Are you thinking of refurbishing your vet clinic or opening a new practice? Take a look at some of our recent vet clinic fitouts. Or give the team a call on 1300 765 344.