Vet practice design trends can be tricky.  Do you get on the bandwagon and risk looking out of step? Or should you just keep it safe and go for something tried and tested?
We've done the hard work for you. We've picked out the most successful trends shaping the design of new veterinary practices.  These top 3 vet practice design trends can help your practice to meet both your needs, and your clients' needs, and will see you in style now and well into the future. 
Here are our top 3 vet practice design trends, and some great examples of these trends translated into reality in some of Elite's recent vet practice fitouts.
Making a Good First Impression
Waiting rooms have seen a big change in recent times to become a more considered space to welcome clients. Gone are the collection of plastic fold up chairs and a receptionist behind a high counter in the corner.
Much more attention is being paid to the reception design to ensure clients start off their visit in a positive way. 
Waiting areas are using a lobby design, with attractive and comfortable seating, refreshment stations (for both pets and their owners), and often a retail section for some idle browsing while waiting.
Reedy Creek Vet definitely makes an impact with its expansive reception and waiting area.  High ceilings, structural beams and concrete walls are a key feature of the reception area. This delivers on the industrial-inspired design that features throughout the practice.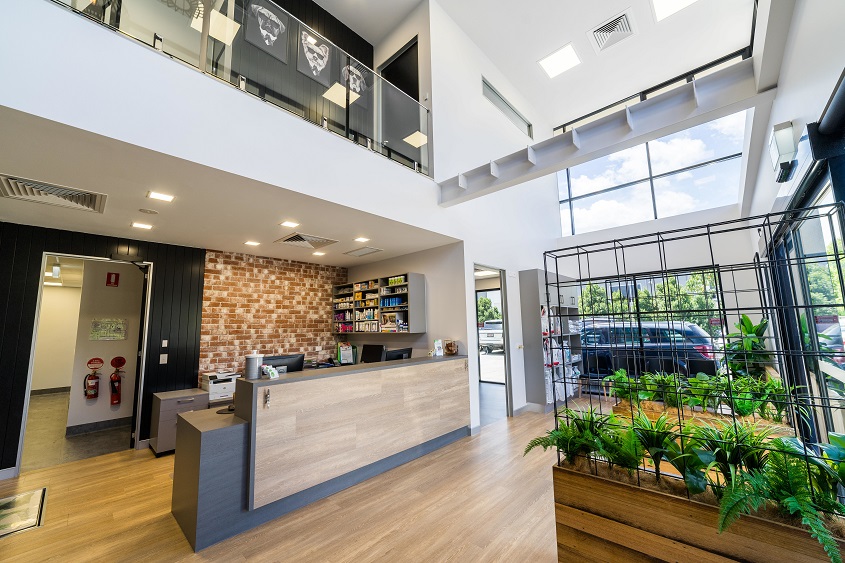 The matt finishes and monotone colour scheme are complemented by the glass-dominated walls of the waiting area. This allows plenty of natural light to stream into the space.
Doing More With Less
While not necessarily a new trend, maximising the use of space will always be key. Even though you may have the room and budget to build a bigger practice, furnishing, maintaining and paying for more utilities in this larger space may put pressure on your business in the long term.
Smaller spaces can often be better – if they are designed well. This is particularly true with consulting rooms – they don't need to be particularly big, and function most efficiently if everything is within easy reach.
The Natural Vets is just over 150sqm in size, but despite being on the smaller side, the clinic over-delivers on both form and function. With its specialised holistic approach to veterinary medicine, the practice's overall aesthetic is calm, warm and positive – and this is evident throughout the clinic's design, both in configuration and in visual selections.
The practice's ample natural lighting meant that the Elite team could take advantage of perimeter window positioning. This creates both a sense of space, and a bright, ambient environment.  In the consulting rooms, foldable examination tables make the smaller spaces work efficiently.
Injecting Personality
Décor featuring stark white walls and plenty of stainless steel looks nice and clean. But it can also look too sterile and lack any personality. 
Vet practice owners are increasingly looking to appeal to the personal taste of potential clients in the area. So they are designing their practices to suit.  The options are endless and will vary greatly depending on your location and surrounding demographic. 
Popular design trends of late include industrial (typically in urban areas), coastal chic (a fitting choice for tropical locales), and more classic décor (which can suit a number of locations and demographics). 
Another way to add personality without committing to a certain style is by adding pops of bright colour. This can be achieved through seating and accessories that can easily be changed out if you want to update your décor.
The reception and waiting area featured brightly coloured chairs. Cartoon-like animal prints also adds a sense a fun to the space.
Learn More
Are you thinking of refurbishing your vet clinic, or opening up a new practice?  Take a look at some of Elite's recent vet fitouts, or talk to the team about your plans.