Choosing to build your new veterinary hospital from the ground up can be challenging yet rewarding.
This blog looks at some aspects of a veterinary hospital build project you may not have considered.
Why Build?
There are many reasons you could be considering building a new veterinary clinic or hospital. You might have been operating out of the same facility for several years, and have outgrown your premises. Or perhaps your layout no longer suits your requirements, and you want to provide additional services.
Whatever the reason, the key areas to be aware of include the following:
Zoning – Does the applicable town planning scheme allow you to provide veterinary services at your proposed property? Your fitout expert can check this for you before you purchase. Finding a suitable property zoned for veterinary services use is difficult, particularly in most urban areas.
Town Planning – If the applicable town planning scheme does not allow use of your property for veterinary services, an application will need to be submitted to Council for approval.
Design – Once you get your town planning approval, you will need several architectural as well as engineering drawings before you can start the build. Choose a fitout expert who can help with drawings for town planning approval.
Timing – you will need to be patient when it comes to building. Sometimes the town planning and design processes take longer than you think.
Case Studies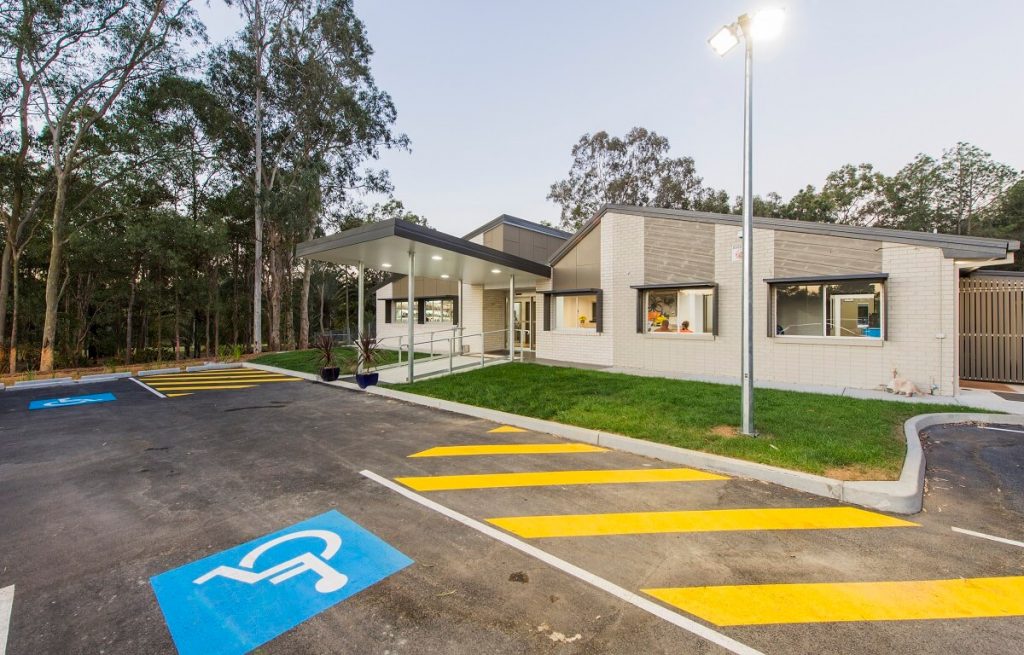 The Animal Hospital in Park Ridge was extended and transformed into the refurbished and larger practice that is in operation today. Elite assisted the client with its town planning approval and designed the extension. Working in stages, Elite built the extension and joined it to the existing building with atriums, passages and linkages, before refurbishing the original section of the practice.
The practice operated out of the new extension while the rest of the building undergoing refurbishment. This allowed the clinic to continue to operate during the project.
"Elite were amazing. Their execution of the design, construction and fitout of the new hospital was on time, pain-free and within budget. We are truly delighted with the outcome". – Dr Nigel Thomas, Park Ridge Animal Hopsital.
Elite recently completed work on a new-build project at Torenbeek Vet Clinic in Rockhampton. The facility is double the size of the previous clinic, and only a few hundred metres away. The new space means that the clinic can provide a better service to its client base.
Original concept designs were developed by local Rockhampton firm Design + Architecture. Elite was responsible for the construction design, documentation and build. The new vet clinic opened in mid-June.
We are thrilled with the job done by Elite Fitout Solutions on our new vet clinic. The design and building process was expertly handled by their team from start to finish and we would highly recommend them to anyone looking to undertake a build and fitout project.​ – Dr Eloise Skilling.
Contact Elite
Are you looking to build a new vet clinic or animal hospital? Call us on 1300 765 344 or contact us via the website.