When it comes to vet clinic design trends, it's not about what is "hot right now". The direction of veterinary practice design is gradually evolving to be focused on both the clinic's needs as well as the needs of clients and their pets – for now and into the future.
We explore the five vet clinic design trends that we think are well worth considering.
Waiting Areas Built for Comfort
As vet practices look to differentiate themselves from other clinics in their local area, more emphasis is being paid to the design of waiting rooms. Waiting areas are now being designed to look more like a hotel lobby, with comfortable seating, refreshment stations (for both pets and their owners), and often a retail section for some idle browsing while waiting.
There has also been more attention paid to the materials used to provide a more relaxing waiting experience for owners and pets alike. Design elements that are more homely in style are becoming increasingly popular, including soft lighting, natural wood and pet portraits. Some vet clinics are taking things even further by incorporating specific pet furnishings to make their patients feel even more at home.
Separate Entrances for Cats & Dogs
To further reduce animal stress, it is becoming quite commonplace (where space allows) for veterinary practices provide separate entrances.
At Ninderry Vet the clinic has been designed to meet the needs of cat and dog patients, making clever use of a small space. Cats and dogs are separated into separate waiting sections either side of the reception desk, and then enter dedicated consult rooms located directly beside each waiting area.
If it's not possible to have separate waiting areas, you may look at designing specific areas that are suitable for your pet clients. Terraced seating is a clever design idea to allow cats to be perched on higher levels, as they like to be elevated when they are feeling stressed. Owners can be seated and dogs can sit on the floor – allowing separate space for all clients and patients.
Glass-Walled Treatment Areas
When monitoring sick patients, open plan and glass-walled treatment areas are the way to go for visibility. By adding glass in the treatment area you can monitor patients to ensure that staff can act quickly if anything should go wrong. Better still, you can also what's happening in other areas of the clinic when in the treatment area.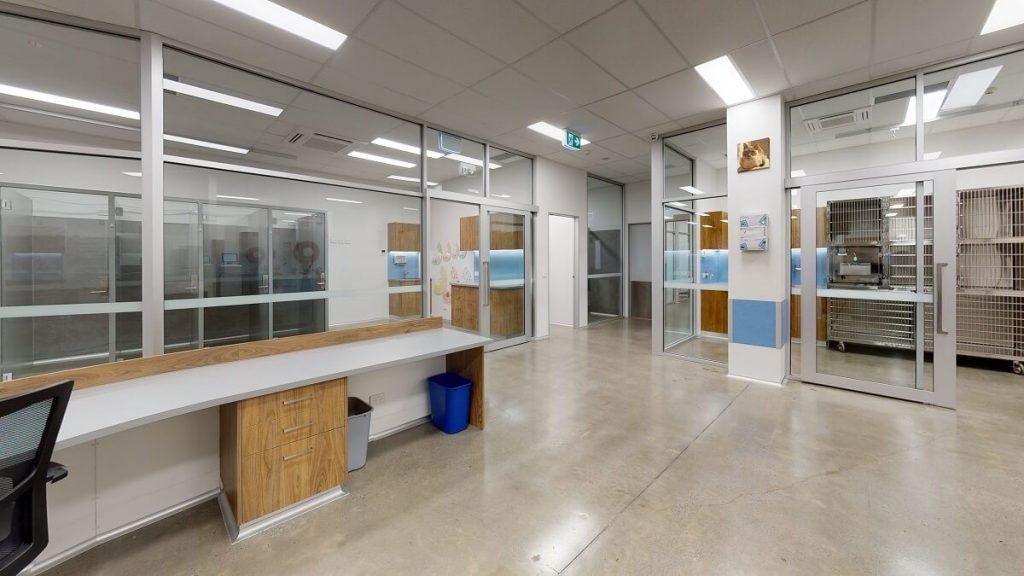 Addressing Noise and Smell Issues
Two big issues in a veterinary clinic that can cause anxiety for animals – and make for an uncomfortable work environment as well – are excessive noise and smell.
While once considered part and parcel of treating animals, vet clinics are increasingly looking at ways to reduce the impact of noise. A thoughtfully-designed floor plan, acoustic panels and acoustic doors all can help to control noise levels.
Both dogs and cats have a strong sense of smell, and this can make them very nervous. A HVAC system throughout the clinic is a way to ensure that the air turns over frequently. Or you can opt to just filter the air in the reception/waiting area only for a cheaper alternative.
Adding Personality Throughout The Clinic
Adding personality to your clinic is a great way to make an impact with design – without committing to a certain style. Incorporating pops of bright colour through seating and accessories, or including materials with different textures can all easily be changed out if you want to update your décor.
Making the vet visit enjoyable through your design choices is a great way to help your clients and their pets feel more comfortable. And in turn making it easier for you to treat calmer patients.
Thinking about refurbishing your vet practice or opening a new clinic?  Call us on 1300 765 344 to discuss your plans.