Using features walls in your new or existing fit out project provides an opportunity to introduce textures, shapes, colours and patterns into your clinic's interior design. They are a great way to liven up a space and can be a cost-effective way to incorporate design elements that offer a "wow factor".
Feature walls can help to convey the personality of a practice, so it's an important element to consider when designing your fit out. The choices for feature walls can range from paint colours to bespoke timber wall panelling.
In this blog we look at feature walls that have been used to enhance the look of a variety of healthcare clinic fit outs.
Ideal Areas
Reception areas, waiting rooms and hallways are the typical areas where feature walls will be used in a healthcare clinic. Decorative elements and colours are a great way to communicate your brand identity to your patients, visitors and staff the moment they enter the practice.
PetKind Veterinary Wellness Boutique used a single gold line on their reception desk. This helps tie their clinic design to the brand logo while also adding an additional colour to the space.
Complementary Colours
When choosing the colour or pattern for your feature wall, it's important that your choice is complementary to your overall clinic design. While you want your feature wall to attract attention, it should stand out for the right reasons. One way to ensure your colour palette is complementary is to use the colours featured in your clinic logo. This will help to keep your design 'on brand'.
For XRadiology, Elite incorporated their vibrant brand colours in a feature wall in the reception and waiting areas of their clinic.
This created a colourful, welcoming entry into their busy radiology facility. The effect is a modern and professional look, and delivers an impact when patients enter the premises.
Creating The Illusion of Texture With Wallpaper
Wallpaper is a great choice for feature or accent walls. It can give you a designer look and is a clever way to highlight a specific room or area.
In this instance, a long corridor was brought to life with a colourful geometric pattern. The wallpaper helps to brighten the hallway between the dressing and consult rooms.
Wallpaper with softer tones and patterns can also be used to provide a calming area in a vet consult/bereavement room.
Exposed Brick
Exposed brick walls are a great feature wall option for an industrial-style décor.
Reedy Creek Vet selected a boutique brick feature wall for their reception. This choice complemented other industrial elements in the vet clinic such as black iron trims and steel beams.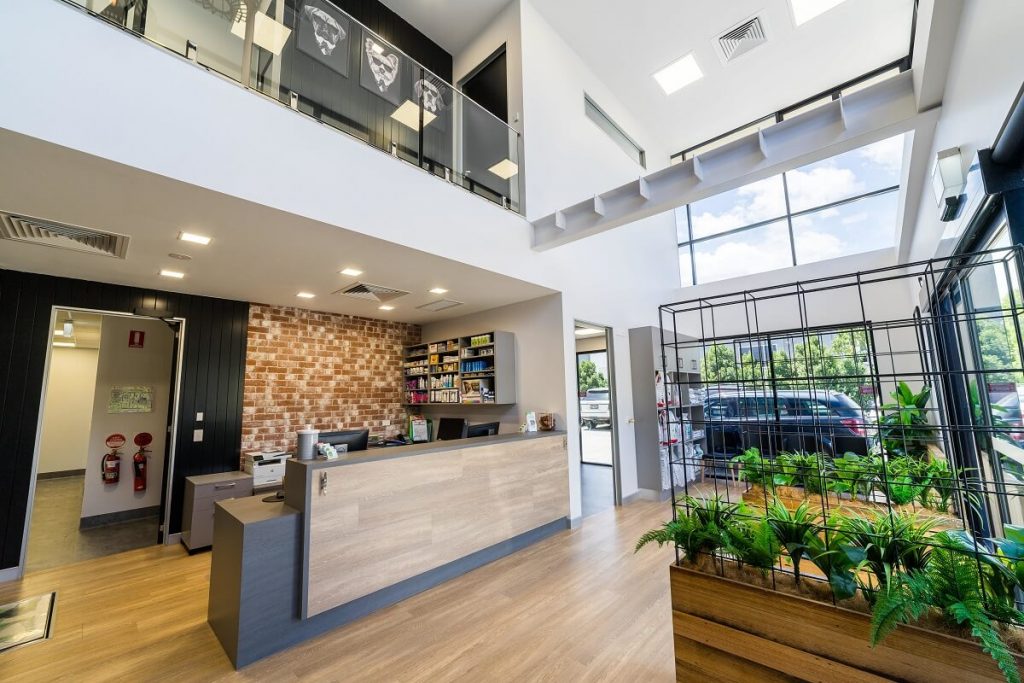 Timber Panels
Timber panelling always makes an impact, providing a high-end, elegant look.
The feature timber wall and ceiling panelling at GC Dental Solutions delivers a stylish first impression when patients enter the practice. The rich wood colour is accented with lighting embedded into the wood panelling to shed light on the reception and waiting areas.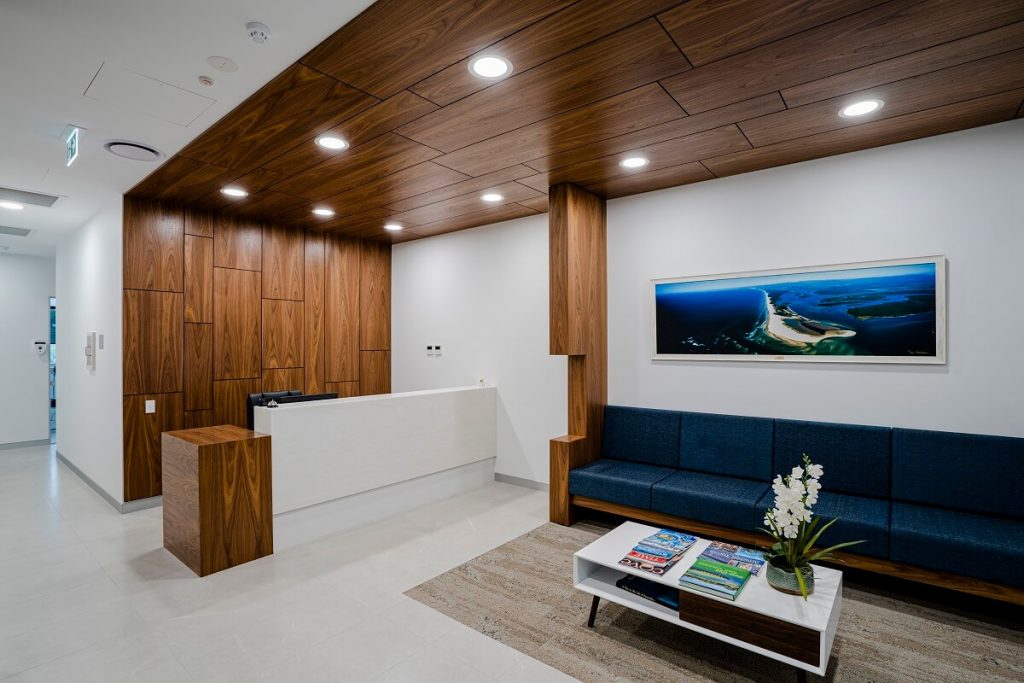 Open Walls
Feature walls don't have to be solid – they can be used as a room divider or feature of the area. A timber screen wall with greenery was added to the entry at Mindoc Psychiatry Practice in Melbourne. This helps to enhance the warmth and atmosphere of the waiting area.
Get Inspired
View our gallery to see more examples of design and fit out projects with feature walls. Or call the Elite team today on 1300 765 344 to discuss your next design and fit out project.