Expanding the range of services on offer at your vet practice is a great way to stay ahead of the competition and provide additional earning capacity. From a dedicated dental space to boarding and extended retail offerings, outlined below are some different ways you can incorporate more services for your vet clinic clients.
If you're opening a new clinic – or refurbishing your existing one – it's well worth considering the pros and cons of additional service options while you are in the process of planning your fit out.
Dedicated Dental Treatment Area
Dental care is typically the fastest-growing service at veterinary practices, so it makes sense to create a dedicated space for dental procedures. This doesn't preclude you from using this area for other procedures, but it does ensure that the dental procedures are carried out in a controlled environment, therefore minimising any cross infection.
The best location would be away from your main traffic area, adjacent to the treatment area and in close proximity to other staff members – in case any issues arise during procedures. Separation from other treatment tables is also necessary due to the aerosolizing of bacteria during dental cleans. An alcove– or even a separate room – are also great options for dental treatment areas.
Sufficient space is required around the entire table for your staff to move during the procedure, as well as allowance for equipment trolleys.
Boarding Services
Boarding services are a great way to offer an additional revenue stream for your vet practice, as well as strengthen loyalty from your clients.
If you have a lot of cat clients in your existing patient-base, then boarding may be a worthwhile option. Many of your clients will feel more comfortable leaving their pets in the care of a vet practice than a stand-alone boarding service. This makes cat boarding an easy extension of your services to existing clients.
Your typical recovery cages aren't going to cut it when it comes to accommodation. Clients will expect a higher-end enclosure for their beloved pet, with glass instead of bars, additional room to play and a separate toileting area.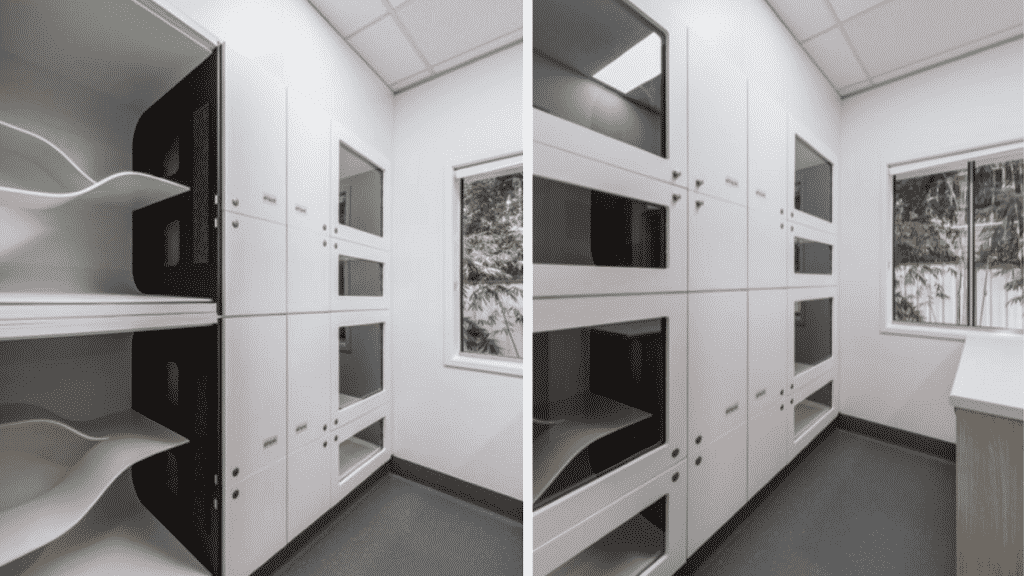 When Bundaberg South Vet recently extended their practice, they incorporated luxury cat condos to offer cat boarding on-site. The condos are air-conditioned, self-breathing, include a separate sleeping area and even have views of the surrounding gardens.
It's a little more challenging if you are planning to have boarding services for dogs at your vet clinic. Before considering any type of pet boarding, make sure you meet animal boarding planning requirements in your council area. Typically, boarding is only permissible in certain zones. Other factors to be aware of are property size, vegetation buffers, noise impacts, and more. An experienced veterinary fit out company like Elite can help you meet these requirements.
Another key consideration when it comes to pet boarding is space. It is a good idea to allocate a separate area for your boarders that is away from your ill or recovering patients. If this is a viable way to expand for your clinic then the investment will be worth it.
Extended Retail Section
Another way to expand your veterinary services and open up a new revenue stream is by increasing the number of pet-related products you sell.
Although, like many vet practices, you may not have the resources to compete with bigger retailers by advertising or discounting prices for various items, you will still be offering your captive audience the benefit of convenience. As such, while this area can be challenging, it may also be an opportunity for increasing your practice's revenue.
Placement of your retail area is important. Ideally, your retail products will have a stand-alone section within your waiting room and be in eyesight of the reception desk. This ensures you will capture the interest of your clients, and hopefully entice them into some idle browsing while waiting.
Brisbane's PetKind Veterinary Wellness Boutique has taken retail to the next level, appealing to the high-income professionals that make up the majority of their local neighbourhood. The veterinary practice not only looks like a high-end boutique, but also features an extensive retail section for clients to purchase a variety of pet accessories.
Contact Us
There are some compelling reasons to offer more services at your new or refurbished vet clinic. But it's important to talk to a veterinary fitout specialist early in your planning before you make any final decisions.
With years of experience in vet practice builds, fitouts and refurbishments, Elite Fitout Solutions is here to help. Contact us today.