Elite recently completed a design and fitout conversion project to transform a well-established Brisbane hair salon into a stylish dental clinic.
Located in a stand-alone building, Chelmer Dental has three dental surgeries in total. Two surgeries will be in use initially, while the third will be for future use as the clinic grows. The practice also features a lab/steri room, reception and waiting area, staff amenities and office area.
History
The owners – Linh and Greg – have provided dental services to the local Chelmer community and the surrounding areas for the past 10 years. Expecting their first child, they decided it was time to start their own dental clinic catering to families in the area.
They chose a building conveniently located across from the Chelmer train station. The building was originally a general store. Many of Chelmer Dental's current clientele recall buying sweets there many years ago.
Previous tenants include many hair salons. The most recent was Bach Hair who stripped back the painted blue floors to reveal beautiful wooden inlays.
Design Features
Flooring
The new owners wanted to keep the flooring inlays restored by Bach Hair some years ago.  Elite repaired and polished the floors, bringing the original designs back to life.  The flooring is a great feature for the clinic, extending from the main reception and waiting areas to the hallway.  Many clients comment on how unique and beautiful it is.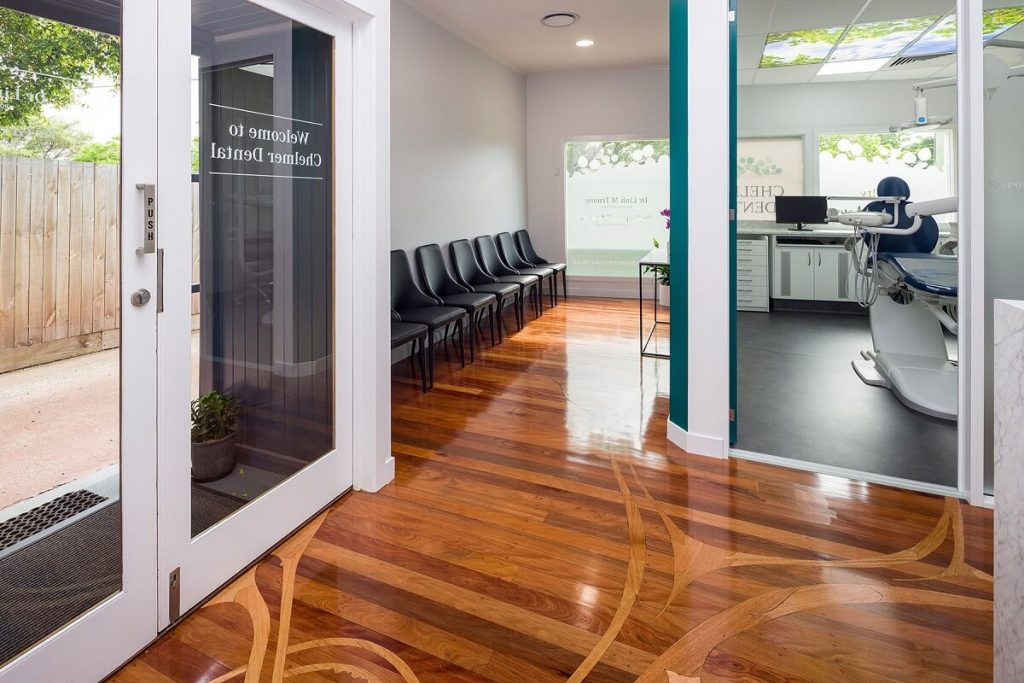 For the surgeries and sterilisation areas, appropriate flooring that is suitable to meet infection control standards for the dental industry has been installed.
Nature-inspired Design
The leafy design in the logo brings the freshness of nature to the new clinic. The logo ties the surroundings, the leafy suburb of Chelmer and the building together. The building is surrounded by greenery – as is the whole suburb – and a tree pattern features prominently across the wooden floor boards.
Two new windows were added to the surgery areas. These windows allow natural light to flow into those areas, as well as providing views of the trees outside.
Lighting
The overhead lighting in the dental surgeries continues the natural design theme, featuring trees and leaves. Different images feature in skylights on the ceilings of each surgery. Trees featured include a Jacaranda, Liquid Amber, blue skies and Japanese Ginko tree.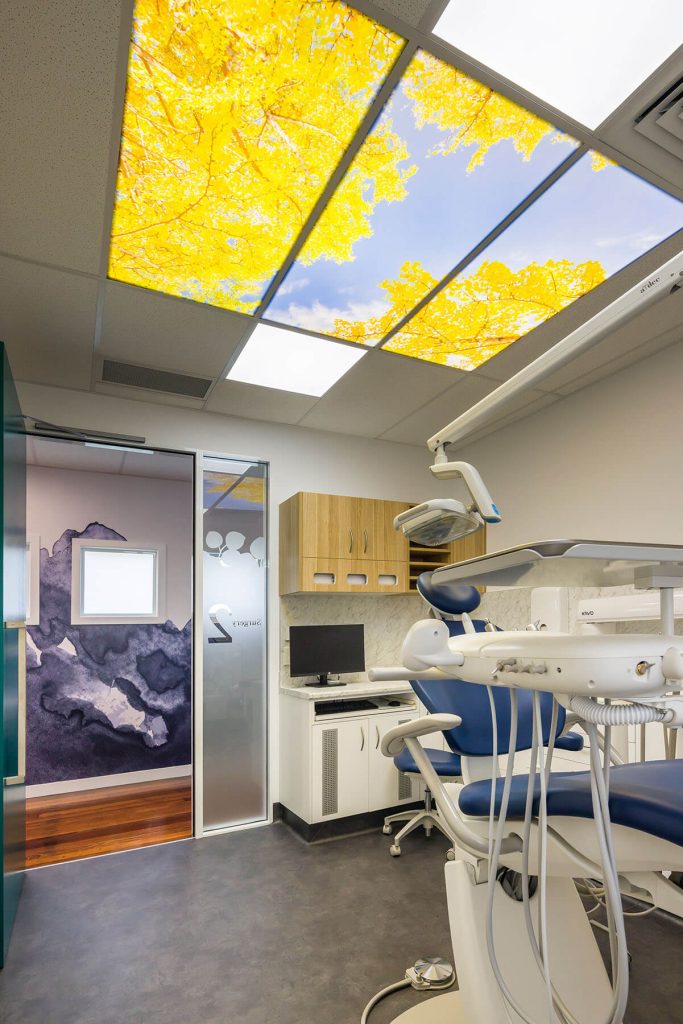 The choice of leaves and trees fits well with the surrounding greenery to create a calming and soothing effect for the clinic.
Reception and Waiting Area
The teal green from the logo features on a wall in the reception area and on the doors to the dental surgery and amenities. The colour beautifully offsets the marble-look reception desk and welcoming waiting area.
Learn More
Are you looking to update your new or existing dental clinic? View our gallery and contact us to talk through your project needs.