If you are wanting to impress your clients when they first walk in the door of your specialist clinic, here are a few tips on how to grab their attention and learn more about your specialist suite fitout.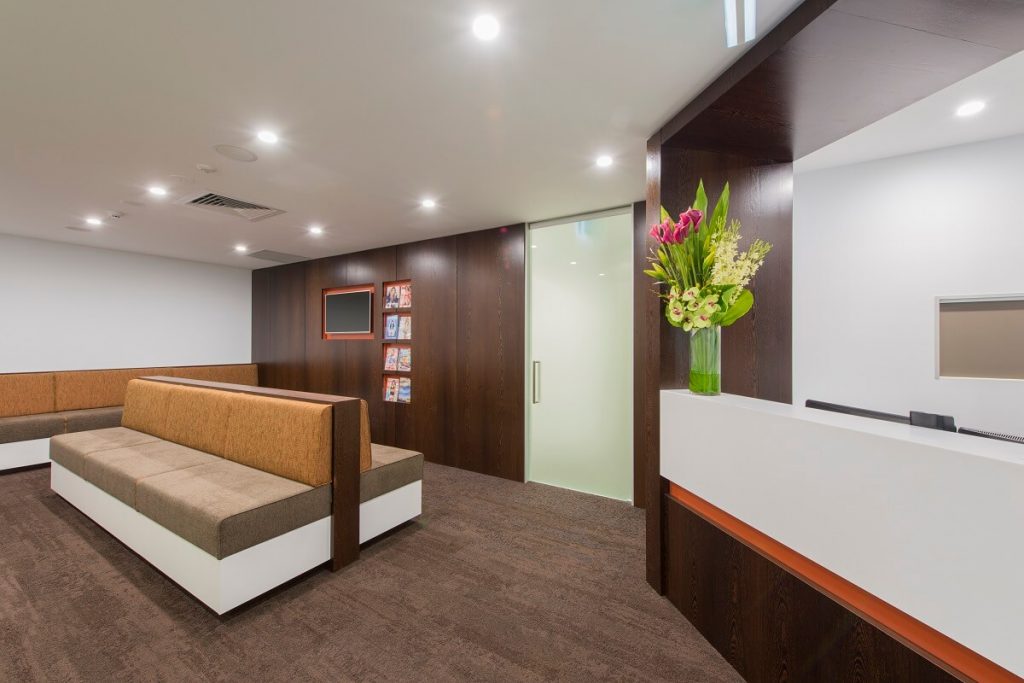 Style
Choose the style that showcases your clinic's personality, whether that is traditional, industrial or Zen. It could even be a combination of all three styles.
Specific themes can be achieved with different finishes, such as timber elements, the colour of paint on the walls, your lighting fixtures, and the type of furnishings used throughout your clinic. Whatever theme you chose – keep it simple and stylish.
A recent specialist suite fitout in Greenslopes Private Hospital has a traditional "look and feel", creating an elegant yet calming environment for their patients.
Dark timbers are featured throughout the clinic contrasting with the 'marble-look' recon stone in the reception desk. The black chairs and dark carpet in the reception area are offset by the clean, white walls and accent lighting.
Flow
An essential element of designing your specialist suite is finding the best solutions for a functional flow. Chances are you have a small space, so you need to ensure the flow of patients and staff into and throughout your clinic is effective and efficient.
An automatic sliding door is a very effective way for your patients to enter your specialist clinic – especially with the current focus on increased infection control. Using a sliding door takes away the need to continually be wiping door handles and as it is usually glass the reception area has a clear view of your patients when they arrive.
It also provides a clean, uncluttered way to enter the clinic allowing the stylish design to show through.
Refreshment Stations
A lot of medical suites provide some type of refreshment for their patients. Providing refreshments helps to make them feel relaxed and sets the tone for their visit.
Serve yourself tea, coffee and water in cups is typically the most common approach.
Now things have changed since the recent infection control recommendations have came into play, some specialist clinics are moving to disposable cups and utensils.
This could help keep the area clean as well as simplify infection control measures.
Contact Us
Are you looking to relocate or fitout your existing specialist suite? Give us a call on 1300 765 344 or contact us via our website to discuss your next project.