A trip to the vet clinic can often leave owners with some trepidation about how their beloved pet will fare during their appointment. However, a lot of vets in Australia and around the world are adopting a new approach – in both the design of their clinic and the way staff interact with pets – to help our furred and feathered friends feel more comfortable throughout their visit to the vet.
We take a look at the fear free approach and how you can incorporate the program's principles in the design of your vet clinic.
What is the Fear Free Approach?
The Fear Free approach was founded by American Vet Dr Marty Becker in 2016. The principle behind the approach is to adapt the animal's environment and respond to its behaviour to minimise fear – for better emotional health, or to calm a pet.
Providing a calm and safe environment to reduce fear, anxiety and stress in pets is beneficial to all – your staff, your patients, and their owners.
Fear Free Design Fundamentals
A few carefully-selected design elements in your practice can help to lower visiting animals' stress. This also minimises the chance that stress will interfere with the client's diagnosis or behaviour. And it improves the experience for their human owners, too.
More Exam Rooms
Current trends are seeing larger practices built to accommodate fear free standards. One key fear free principle is to have patients move as quickly as possible into exam rooms, instead of spending time in the waiting room. This is seeing some vet clinics reduce the size of their waiting room, and include more exam rooms to allow patients to move straight into the exam room upon arrival.
Noise
Many pets are sensitive to noise. Separate waiting rooms and sound proofing between consult rooms can create a quiet, safe and comforting environment for your patients.
Exam Room Design
Ideally, your treatment/exam rooms should be dedicated to only cats or only dogs, if possible. This allows you to add specific fear-free design elements in each room.
Treating dogs and physically examining them on the floor can make the experience less stressful. You could also consider using an adjustable table so that it is not too difficult to get them onto a suitable surface to examine.
Pet Wellness Centre designed their clinic specifically to separate cats and dogs. For their efforts they received Cat Friendly Clinic Accreditation from the International Society of Feline Medicine.
At their clinic cats enjoy a dedicated entrance, ward, waiting and consult room. They also have cat-calming diffusers and cat-friendly tunes.
Separate Entrances
Many vet practices have chosen to have separate entrances for dogs and cats. At Torenbeek Vet Clinic the large reception waiting area is separated. Dogs are on one side of the entrance and cats on the other. Pets and their owners can sit indoors or outdoors while waiting for their appointment. There is even a grassy area where they can assimilate with nature before entering the practice.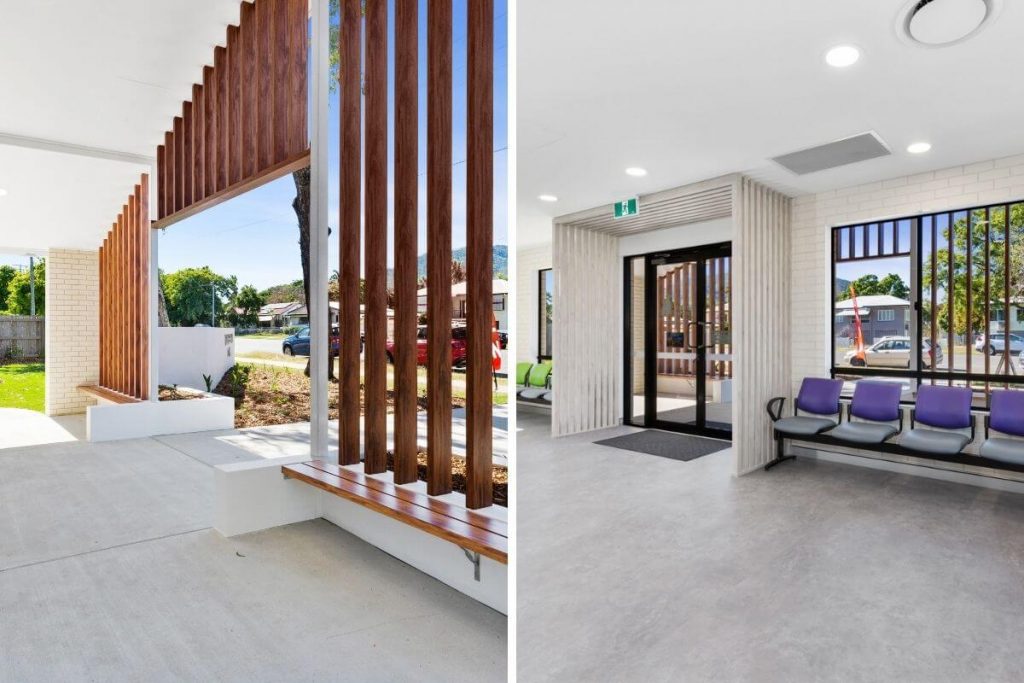 Learn More
At Elite Fitout Solutions, we have many years of experience helping vet practice owners create the ideal practice for their patients.
Contact us today to discuss how we can help with your vet clinic fitout or refurbishment.