To counter the feelings of anxiety and discomfort associated with visiting the doctor, many medical practices are designing their clinics to look and feel more like home. This helps to make the experience for patients much more pleasant.
Here are our three top tips to ensure your medical practice fitout feels less clinical, and more like home.
Homely Furnishings
While some areas of your practice need to be sterile – such as your treatment room – that doesn't mean the rest of your practice needs to have a clinical feel. Incorporate cozy furniture and items such as rugs, vases and mirrors in your waiting room. This can help to create a nice ambience while patients are waiting for their appointment.
At Mowat Urogynaecology, the waiting room has been furnished to look welcoming. The room features comfortable armchairs, colourful artworks and diffused lighting to give the space an authentic homely feel.
Plenty of Natural Light
Including plenty of windows in your clinic maximises the amount of natural light throughout your practice. Natural light has been linked by many studies to mental and physical health benefits, including speeding up the healing process. As an added benefit, providing patients with a view outside also helps to take their mind off the anxiety associated with an upcoming appointment.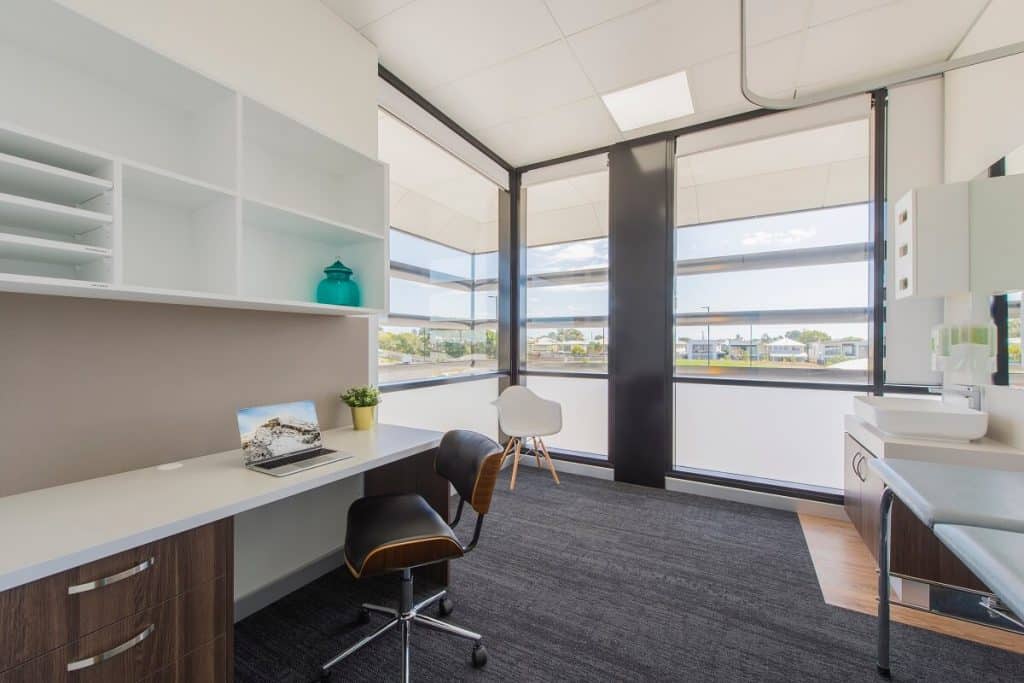 Racecourse Village Medical Centre takes advantage of its corner location with large windows in their consulting and treatment areas.  The abundance of natural light makes the practice feel warm and welcoming for patients.
Personal Touches
Adding personal touches throughout your clinic is an easy way to take a practice from feeling clinical to a more home-like environment. Consider incorporating interesting artwork, flowers, greenery, and child-friendly items.
The founder of the Station on Tanti Family and Women's Clinic had a vision of providing a comfortable yet elegant environment for patients. 
The design of the practice leveraged the building's character to create a light and airy space.
Feeling Inspired?
Are you thinking of starting your own medical practice or refurbishing your existing one?
Browse our gallery to see more examples of our work, or contact us to discuss your medical practice fitout.