Radiology facilities need to achieve maximum functionality and flow throughout their entire premises to meet their clients' needs and to stay on schedule.
Each imaging procedure has its own specific processes and workflows, preparatory procedures and observation requirements – as well as highly-specialised equipment. To accommodate complex technical and procedural requirements – in addition to the needs of the patients and imaging staff – careful planning is required when designing radiology facilities.
We look at a few of the key radiology design considerations to maximise function and flow.
Creating "Zones" in Your Facility
Radiology practices have distinct areas for patients, procedures, imagery review and back office functions. Creating your layout plan based on separate functional zones helps to create a natural flow of patients, staff and supplies, maximising the efficiency of your entire practice.
Activity Clusters
Also consider creating "activity clusters" by grouping together imaging rooms and related facilities near to each other to save on time. This could include locating patient preparation and recovery zones close by your MRI and interventional imaging procedure rooms, and ensuring a toilet is close to ultrasound rooms for patients undergoing abdominal examinations.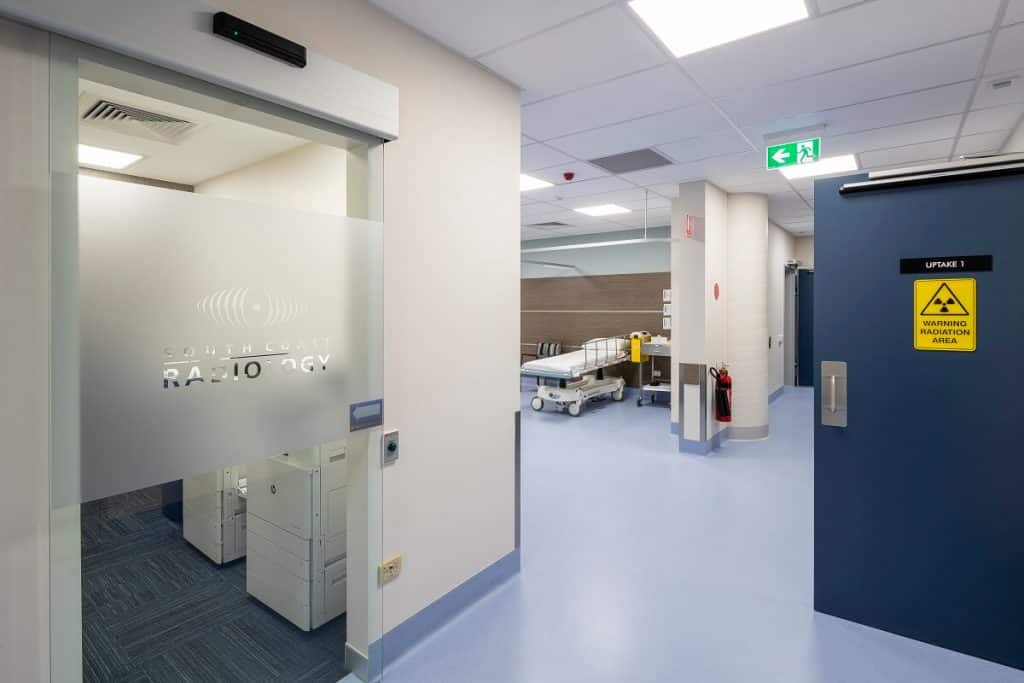 The Patient Experience
Attending a radiology appointment can be quite a stressful and anxious experience for some patients, so you should be aware of differing patients' needs when planning your facility.
Comfortable, spacious waiting areas that can accommodate family members are essential, along with conveniently located bathroom facilities for those who may be required to drink large volumes of water prior to imaging.
Larger Changing Rooms
Private and spacious change rooms are a key requirement, including larger rooms for disabled or younger patients who may require assistance with changing. In some cases the change rooms will be of a similar size to due to space constraints.
Providing for Staff Requirements
While the needs of patients are incredibly important to ensure their visit is a positive experience, don't forget the requirements of staff. Adequate space should be allocated to radiologists, who need a quiet, private space to review images and prepare reports. Lighting is also important as it needs to be capable of being dimmed to 0% to read the radiology reports.
Appropriately configured control rooms with large windows and enough space for multiple staff members are also a must. Administrative staff require suitably designed spaces as well.
Learn More
Elite Fitout Solutions has extensive experience in imaging and radiology design and fitout and understand the complex requirements of these spaces.  Look at some of our recent projects or contact the E-team today on 1300 765 344 to discuss your fitout or refurbishment project.