Between everyday consumables, clinical supplies, and medications there are countless different items that require storage in a medical practice. And with space often at a premium, well-designed storage is an essential element to consider when planning your medical clinic fitout.
We explore some different design solutions you can incorporate in the key areas of your medical practice to make the most of your space and functionality.
Reception and Waiting Area Storage
Good storage is key to an uncluttered medical practice reception and waiting room. Incorporating "hidden" areas in your furniture is a great way to store items in your public areas to keep any mess out of view, while also not using up valuable space.
In your waiting area, consider incorporating bench seats with hinged tops or pull-out drawers to provide handy under-seat storage. You could also add hidden drawers under a coffee or side table to add further space for your items.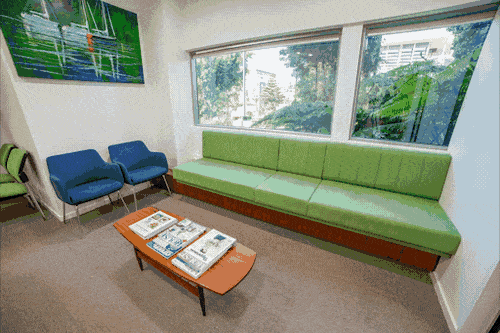 Consulting Room Storage
In many medical practices, the consulting rooms can be used by different doctors or visiting allied health professionals over the course of a week. This makes storage a key element when designing consulting spaces to meet your users' needs.
Consider mobile storage cabinets that fit under the consult desk to give you the option to move them around, as required. You may wish to provide each doctor who works at your practice with their own cabinet to move into the consulting room they are using that day. Additionally, you could have an empty one for use by visiting medical professionals.
Incorporating drawers in a base cabinet structure under your examination couches is a clever way to provide point-of-use storage. These drawers can provide handy storage for linen or disposable protective products used during examinations.
Another key storage element in consulting rooms is open shelving above the consult desk. This is a great option to provide easy access to reference materials, as well as have a place to display any décor items.
Treatment Room Storage
Multiple storage options in your treatment room will provide you with plenty of flexibility while still maintaining as much floor space as possible.
Cabinets with solid doors are a practical choice if you're storing items that can get a bit messy. But make sure you add labels to ensure quick access to your items. Where visibility is important, cabinets with glass doors will let you quickly locate what you are looking for.
A popular storage system for wound dressings and single-use medical instruments is using divided drawers. Smaller general consumable items can be kept in moveable carts to give you the option to move them around as required. Lockable storage for medication and hazardous materials or chemicals is also essential.
And just as important as the type of storage you choose for your treatment room is the material your cabinetry is made from. Try to select cabinetry that is easy to clean – both inside and out – and will withstand a clinical environment.
A couple of final hints to ensure your storage is efficient and effective:
Ask yourself – do I actually need to keep this item/s?
Create storage so that it is not too high or located in hard to access areas, as you could create OH&S issues.
Contact Us
Elite's in-house design team have extensive experience in helping medical practice owners to make the most of their space and functionality. Take a look at some of our recent healthcare design and fitout projects or give the team a call on 1300 765 344.