A relatively new arrival to the Sunshine Coast, Dr Daevyd Rodda quickly established himself as a reputable surgeon.  He worked with his designer to achieve a specific vision for the fitout of his new specialist rooms; a classic look that still offered a "wow" factor.
To achieve Dr Rodda's vision, his designer worked with Elite using beautiful materials with high quality finishes and joinery. An elegant but appealing colour scheme blends white and charcoal, complemented by American Walnut feature walls. Comfortable blue chairs and green potted plants add a splash of colour and sense of freshness, complemented with natural lighting.
Porcelain counters and desktops, as well as timber desks, feature in the reception area, and also in the consulting rooms. This offered a holistic feel to the entire space and ensured that the suites were not only classic, but also unique – in line with Dr Rodda's vision.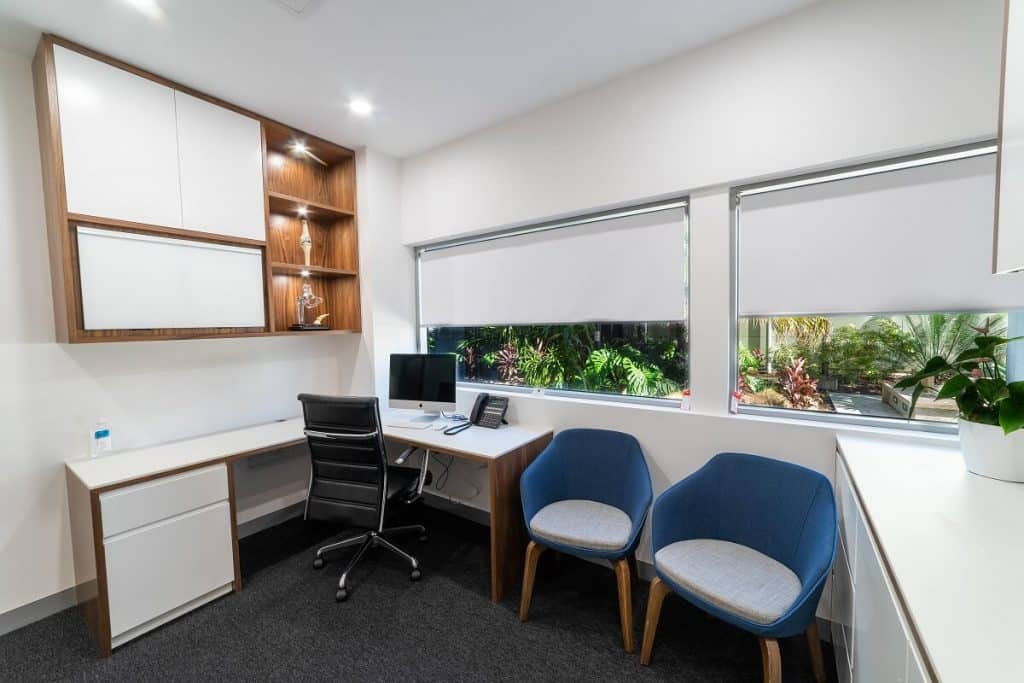 Like any specialist fitout project, some challenges presented themselves along the way. Working in a fully operational hospital environment with specialist suites within the vicinity of the fitout, timing deliveries to minimise the impact on other tenants and keeping all stakeholders informed were the main challenges. The designer chose materials and finishes to reflect the client's vision of creating something unique and consistent with his style and image.
A final requirement of Dr Rodda's vision was to have as much natural light in the waiting area as possible. 'Borrowed light' from the back of house streams into the room through frameless glass panels. With the addition of concealed lighting, the result is a welcoming ambience and comfortable level of light.
The end result is evident in the photos – classic, classy, inviting, and comfortable.
Check out our gallery for more medical fitouts.