A reception area filled with natural light is always a welcoming feature for your clients when they enter your veterinary practice.  And not only does abundant daylight make your clinic look great, it has also been shown to make people feel happier – and most importantly, help speed up the healing process.
Floor-to-ceiling windows, glass doors, skylights and mirrors (to reflect the light) all work to maximise natural light in your veterinary practice. You'll also enjoy cost savings by utilising daylight as well as better employee productivity.
Take a look at how these vet practices are making the most of natural light in their clinics.
Torenbeek Vet Clinic – Queensland
When Torenbeek Vet Clinic decided to build their new veterinary practice they wanted more functional space and lots of natural light. This has been achieved with large windows at the front and sides of the waiting area, as well as a large atrium window in the middle of the clinic. These windows bring in a large amount of light into the waiting and reception areas, providing a lovely welcoming atmosphere for patients.
The consult rooms and surgery areas also benefit from the plentiful natural light.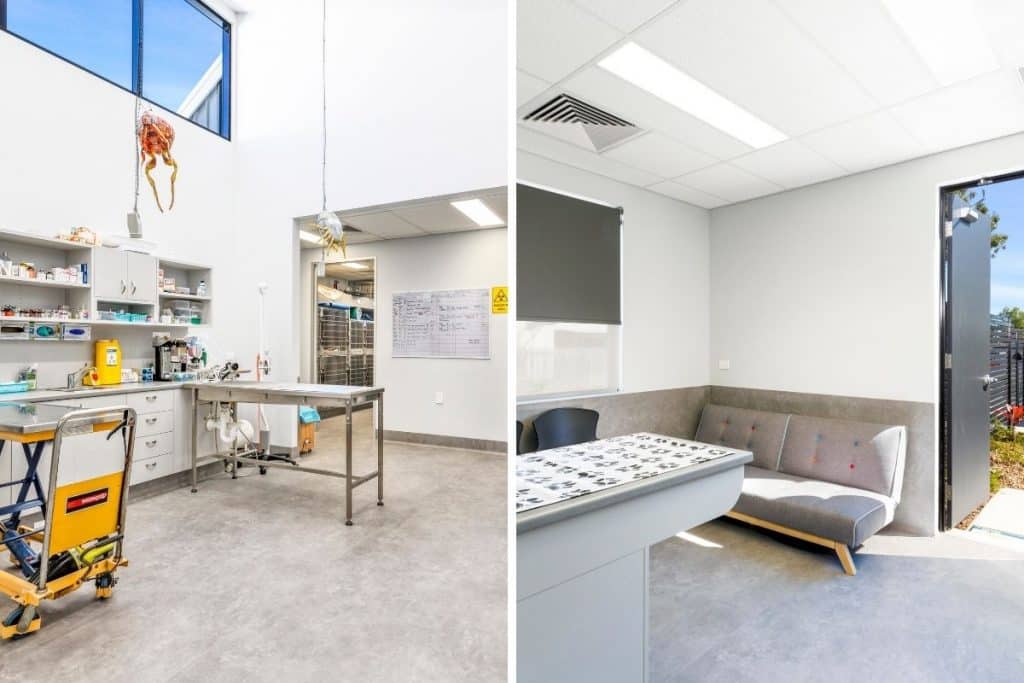 Veterinary Referral Hospital (VRH) – Victoria
This 1,200sqm facility has been built with floor-to-ceiling windows and full-height glass doors at the front of the building. This allows natural light to flow into the reception and waiting area. It also offers a view of the neighbourhood while clients wait for their appointment.
VRH utilised the natural light coming from the large windows and overhead lighting to provide light in the consult rooms. This was achieved by filtering the light through paw-shaped windows and overhead glass inserts at the top of the consult room doors.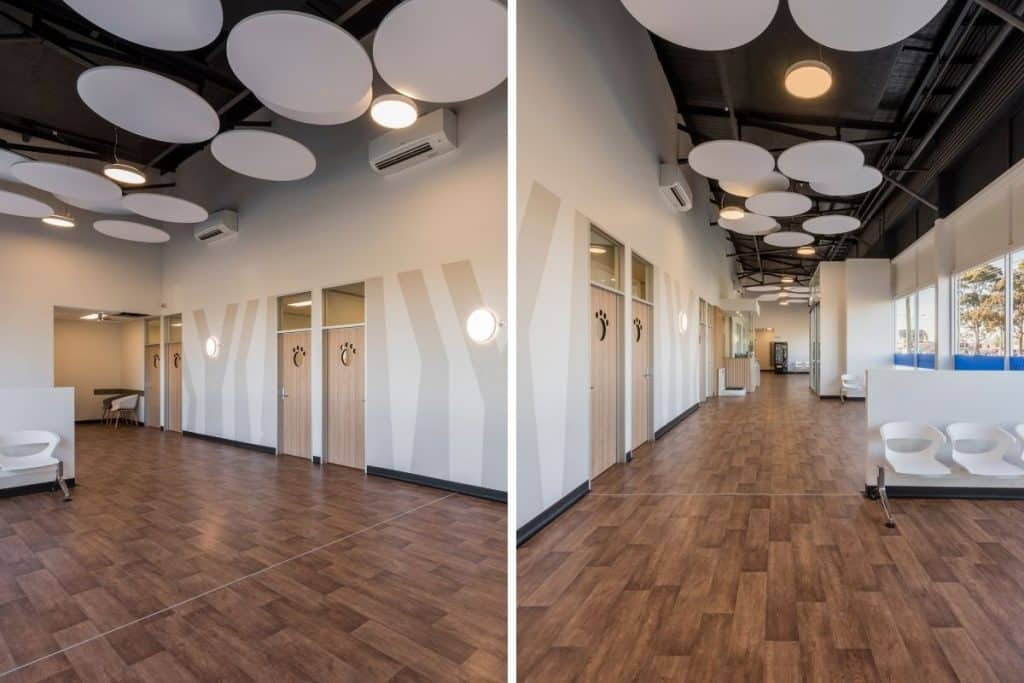 Veterinary Specialists of Sydney (VSOS) – NSW
The 1,100sqm veterinary specialist facility has a wall of windows on both the ground floor and on the first level. The wall-to-to ceiling windows allow natural light to filter into the reception and consulting areas of the large warehouse-style space.
Due to the nature of the emergency services provided by VSOS, the corridors leading from the reception and parking areas are also glass. This brings in natural light as well as letting people know that the hospital is open for business.
Contact Us
Are you looking to build a new veterinary clinic? At Elite, we work with business owners to build great healthcare practices.
Contact Elite to discuss your project needs or view our veterinary fitout project gallery for ideas.