Pet wellness, human wellness and community wellness are all values embraced by the practice owner and vets at Pet Wellness Centre in Burleigh Heads.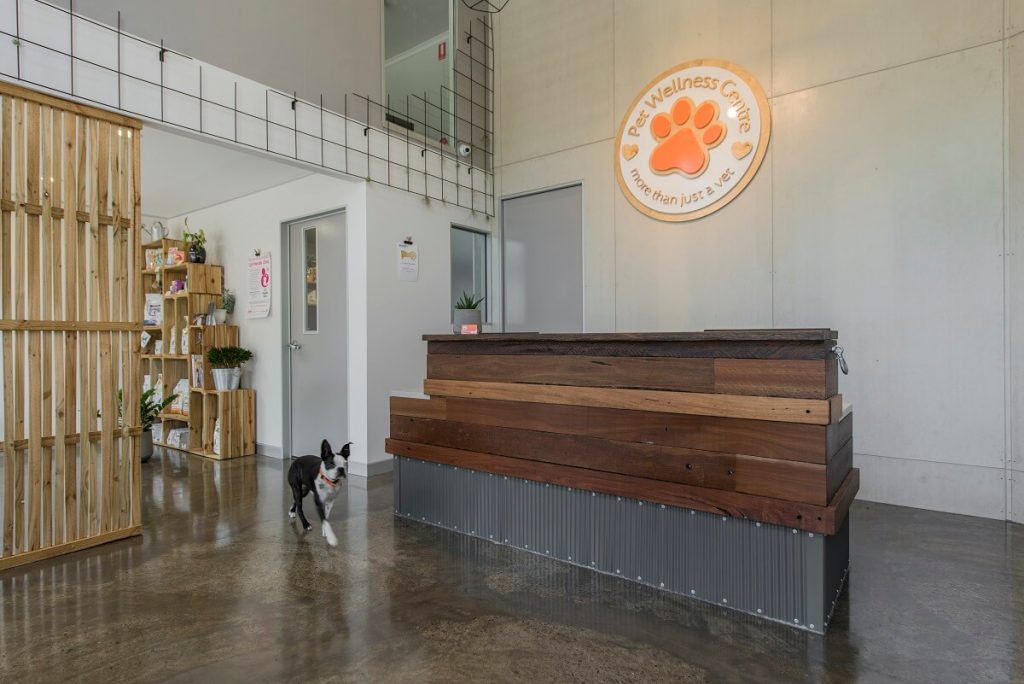 As such, the practice owner wanted to fitout the 160sqm vet clinic to create an ambiance of wellness. To achieve this, recycled materials and natural (or sustainable and natural-looking) finishes needed to be a key feature in the practice. To achieve the owner's vision for a wellness-focused vet practice, Elite Fitout Solutions took particular care to select materials that promoted wellness through design and function.
Fitout Materials
Recycled materials including timbers, furniture and metal were used to fitout the practice's front of house area. Joinery and décor items were even created using recycled black metal chairs, which were also used for the seating area. The end result was a welcoming and comfortable space for pets and their owners as they wait for their appointments.
As recycled materials were not suitable for treatment rooms and hygiene sensitive areas, Elite collaborated closely with the client to select suitable materials. This helped to ensure a consistent look, feel and colour across the practice while still meeting the overall wellness objective. Timber-look laminates were chosen to blend with the recycled look and feel. In keeping with the natural and sustainable design brief, sustainable laminates and materials were used where recycled materials could not be incorporated.
Lighting
Lighting is an often-overlooked wellness design element. However, years of experience mean this is never an area that's overlooked at Elite. Instead, suspended lighting was selected in consultation with the practice owner. This lighting helps to promote and facilitate the practice's overall wellness look and feel, while also delivering adequate and healthy levels of light.
Elite delivered this fitout on time, on budget and on brief to the delight of the practice owner.
"The centre is beautiful. They knew more about what I needed than I did. Invaluable!" Cathy May, Chief Wellness Officer, Pet Wellness.
Thanks to this successful fitout project, Pet Wellness is now busy delivering on its commitment to pet wellness, human wellness and community wellness every day in Burleigh Heads.